Six felony charges have been filed against former Miami-Dade Public Schools board member Solomon Stinson following what police said was a bevy of violent episodes on Sunday.
Stinson has been charged with two counts of attempted murder, one count of criminal attempt to solicit, one count of fleeing with disregard for safety and two counts of aggravated assault with a deadly weapon.
Stinson's attorney said although the incidents were unfortunate no one was injured, including his client.
On Monday afternoon, Pembroke Pines police spokesperson Amanda Conwell told The Miami Timesthat Stinson was involuntarily admitted for a psychological evaluation, under the Florida Mental Health Act. Also known as the Baker Act, the Florida Mental Health Act allows for intervention and temporary detention during a crisis for up to 72 hours.
"Due to the fact that he has committed a felony, it is not mandatory for him to stay the 72 hours," said Conwell. Stinson's next stop is Broward County jail, she added.
As of Tuesday morning, Stinson was not in Broward Sheriff's Office's custody. His attorney, H. T. Smith, said he hasn't seen his client, but confirmed that Stinson was still under the care of medical professionals.
A case is pending against Stinson in the Broward County court. Stinson will be arraigned within 21 days after he is booked in Broward County jail.
Smith said he is withholding comment on the charges against his client until they are officially filed.
School board member Steve Gallon III said he speaks to Stinson "almost daily" and sees him as a father figure and a mentor.
Stinson appeared to be in good health the last time he saw him.
"My thoughts and prayers will remain with him and his family during this difficult time," Gallon said.
Solomon at 81 is known in the Black community as a pioneering educator, but on June 2, police identified him as an alleged gunman and road rager who entered into a shootout with police.
Black Miamians have expressed shock while others are concerned about Stinson's mental health. They hope the news of the elder's arrest does not tarnish his legacy and service to the Black community.
On Sunday afternoon, a Miramar couple was unloading their vehicle when police said they were approached by a man in a white Cadillac. The Cadillac pulled up to the couple's home and the driver honked the car horn. The female resident went over to the Cadillac. The driver lowered the passenger side window and pointed a gun at the woman. She ran and took cover close to a nearby car. She later identified that man as Stinson.
Gallon said reports do not match up to the educational leader that he admires.
"With respect to the alleged incidents that have been reported in the media, this is not the Dr. Solomon Stinson that I and the community have respected and known publicly for decades..." said Gallon. "I hope that his lifelong narrative is reflective of his decades of service to education and this community."
Stinson spent 50 years overseeing the lives of Miami-Dade County students. He started his career as a teacher at Holmes Elementary School in Liberty City. He was the principal at Rainbow Park, North Glade and Lake Stevens Elementary schools. Stinson had several distinguished roles in the M-DCPS system including board member for District 2, which includes several predominately Black schools, where Gallon now leads. He retired in 1996 as the deputy superintendent of school operations. The board honored him for his accomplishments in 2017. On May 21, the Miami-Dade County Commission approved the co-designation of a portion of South River Drive after Stinson. The resolution officially went into effect 12 days before the alleged incident involving three people and law enforcement in the Southwest region of Broward County.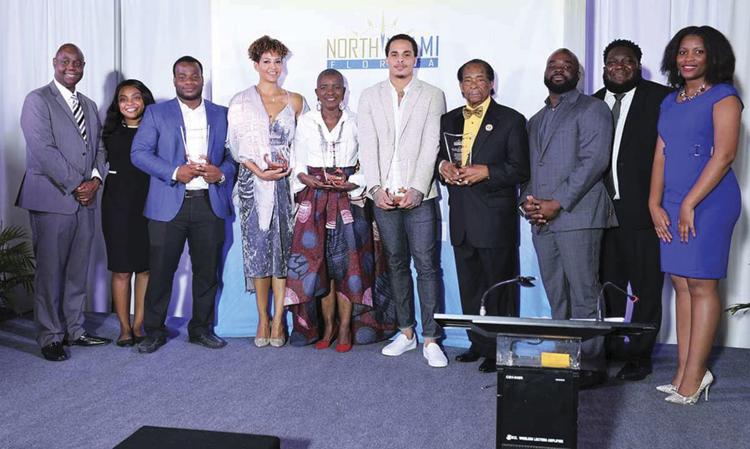 Police said Stinton pulled a gun on the woman in Monarch Lakes, a housing complex in Miramar, and then drove west to Pembroke Lakes Mall. According to Pembroke Pines officials, Stinson argued with a male driver over a parking spot right before he fired rounds of bullets at the victim's vehicle. He fled the scene, said police, and continued to go west. A third female victim told police she saw Stinson unload again near Northwest Fourth Street and Flamingo Road. That's when the elderly man initiated a police chase that erupted into a bullet battle, reports said.
Pembroke Pines police warned residents to stay clear of the area via twitter:
"UPDATE: Residents in the area of 136 Avenue & Sheridan Street are advised to remain indoors at this time. One armed suspect remains barricaded at this time."
The pursuit ended when Stinson lost control of his Cadillac, which crashed into an undeveloped area of land and bursted in flames. He was treated at nearby hospital for minor injuries.
Sharron Henley, vice president of programs at Urban League of Greater Miami, shared a photo of Stinson and herself on Facebook with a message of support for the former board member.
"One of the qualities of being a human being is our ability to give and receive support, no matter what. Dr. Solomon Stinson provided employment, assistance, direction, and guidance to many of my family members and friends ..." she said.