Martine Moïse's departure from South Florida signals a road to recovery for Haiti, leaving the world to anticipate the changes her arrival back to the island nation may invoke in the midst of instability and uncertainty.
Following protocol, she returned home to prepare for the burial of slain President Jovenel Moïse this Friday, but not before several Haitian American leaders held vigils and memorials across Miami-Dade County in her husband's honor.
The day before Haiti's first lady was discharged from Jackson Memorial Hospital, the local chapter of Service Employees International Union (SEIU 1991), along with prominent Haitian American women in the community, held a prayer vigil for her and the people of Haiti outside the building.
People from nearby communities flooded the courtyard wearing the colors of Haiti's flag while holding signs that asked for peace, unity and safe passage for Moïse.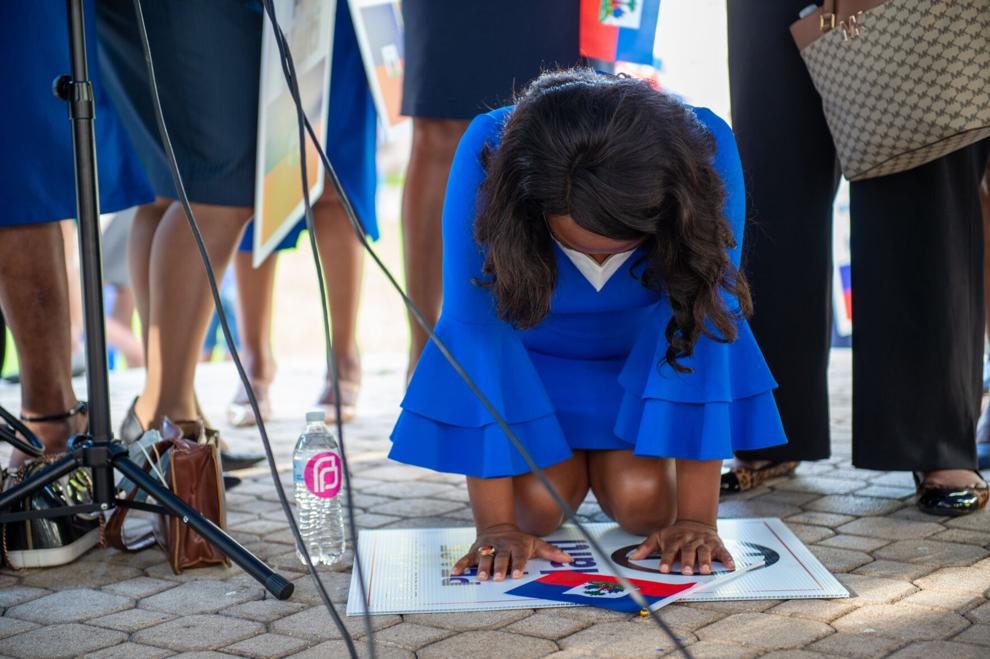 A total of seven women – including Rep. Dotie Joseph, North Miami Beach Commissioner Daniela Jean, North Lauderdale Commissioner Regina Martin Archat and Pastor Fayola Delica – delivered prayers asking for divine intervention in Haiti and justice for the Moïse family.
With the help of microphones and other attendees who also bellowed out prayers, the women hoped the sounds would be carried up to Moïse's room as a sign of encouragement and support from the South Florida community.
"There is going to be a funeral in Haiti so our first lady [had] to return," said Linda Joseph, the Haitian-born political director for SEIU 1991. "One of the reasons why we really wanted to have this circle of prayer was to give her our strength and love so she could travel well. Can you imagine someone storming her house and murdering her husband in front of her? The fact that she is still [alive] and [was] here with us says we had no choice but to do this."
She explained that there was a significance in selecting seven women to lead the charge, first to represent the courage of Moïse, and to acknowledge that her husband was assassinated on the seventh day of the seventh month while only seven months away from the end of his term.
Martin Archat, also senior pastor at Embassy Church of South Florida in Oakland Park, responded to the invitation with the intention of spreading a positive message to the community.
"It was important to be that face for our generation and to tell them that though you may be born here, Haiti is still your lineage and where your bloodline flows," she said. "We want to be strategic as it relates to what we do for the first family and those that have been affected; our country is crying out so we want to let them know that we are here and are praying for them."
The event was also a way for Martin Archat to pay her respects to Jovenel Moïse, someone her mother, the mayor of Chansolme in Port-de-Paix, Haiti, worked closely with.
"Right now, my mother is focused on making sure that the people of Port-de-Paix are good and have what they need," she said. "She said that things are chaotic now. There's nobody going in or out, meaning they are not allowing anyone in the country."
Humanitarian aid & fostering hope
Martin Archat's family owns an orphanage in Haiti, where they send food and other resources to children and to parents without the means to support them. The added chaos created by the assassination has the orphanage at full capacity.
"There are a lot of kids running the streets without food or a place to stay," she said. "We haven't been personally affected by the violence or anything of that nature and thank God for that, because things are really crazy in Haiti."
Considering the conditions in the country, Linda Joseph believes the best thing Americans can do right now is contribute resources through humanitarian aid.
The women plan to meet with Secretary of State Antony Blinken to request food, and boots on the ground for peacekeeping and stabilizing efforts.
"I think we can really do something significant and maybe this is the time," said Joseph, urging people to get involved in whatever capacity they can, especially when it comes to donation drives.
Like many people looking to support Haiti, she committed to participating in a donation drive created by The Hungry Black Man, originally scheduled to take place last Sunday at the Space Called Tribe Co-Work and Urban Innovation Lab, but postponed to Saturday, July 31 at 3 p.m.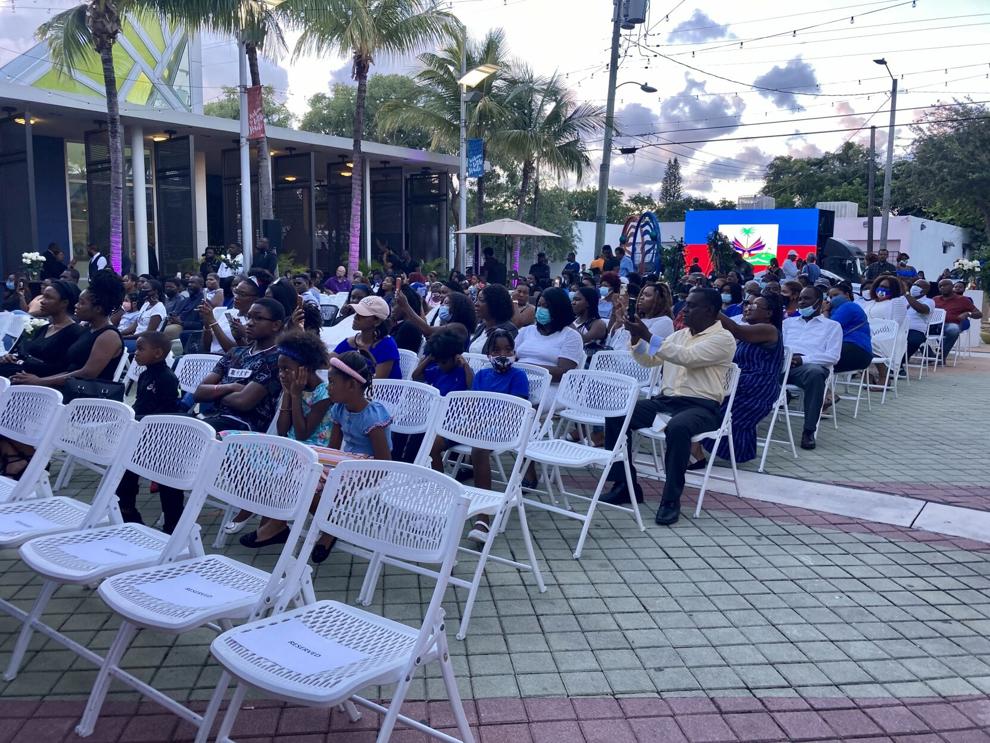 While the women raised their voices in prayer Friday night, just northeast of the hospital, organizers of another vigil were setting up at the Little Haiti Cultural Center (LHCC).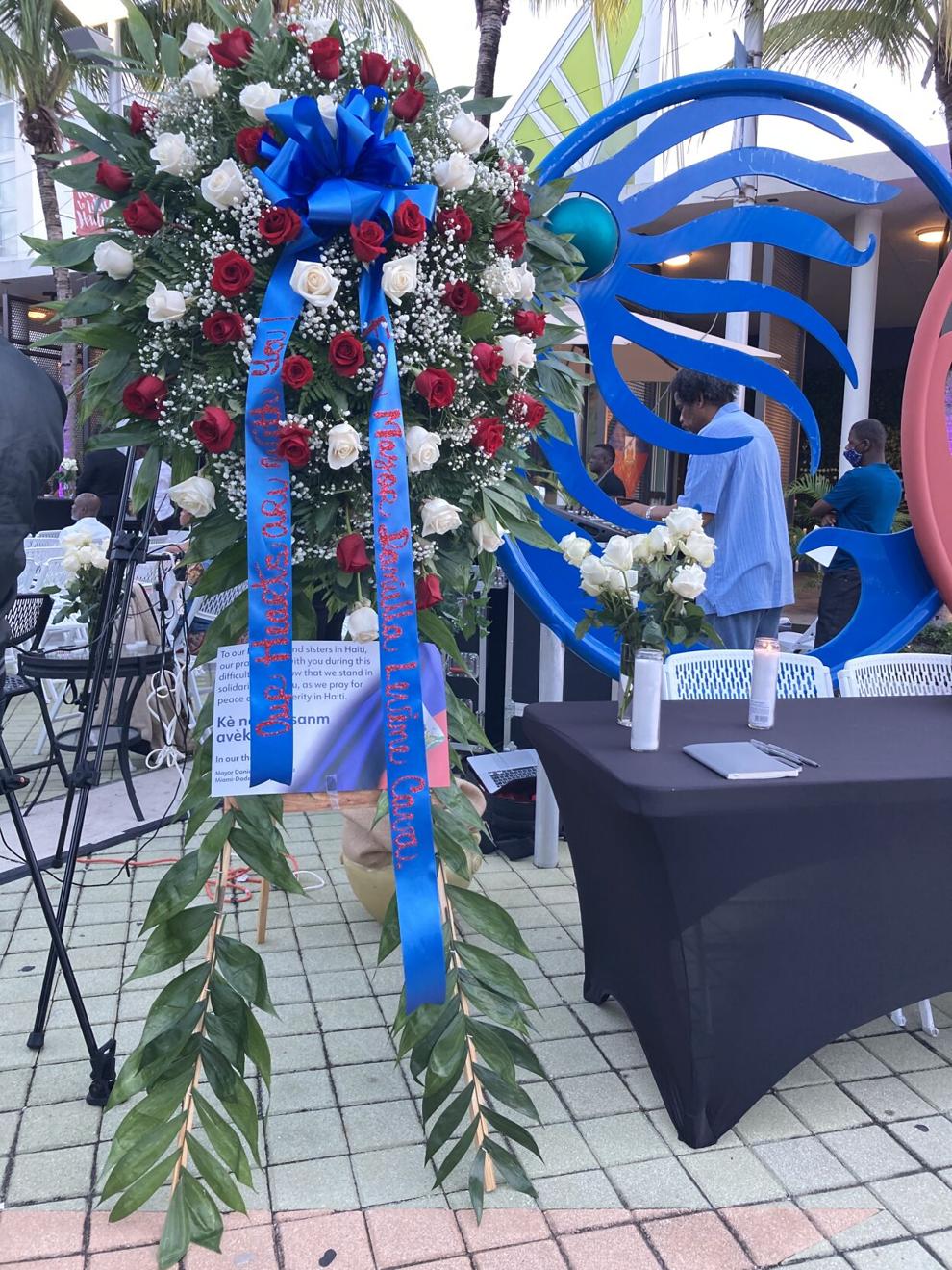 "We are all united and feeling the pain that Haiti is feeling," said City of Miami Mayor Francis Suarez at the memorial vigil held at LHCC. "We will do everything we can here in the City of Miami, not just to recognize the life that President Moïse lived, but the legacy that he must leave now in this tragic form and fashion so that hopefully there can be the kind of change that Haiti deserves."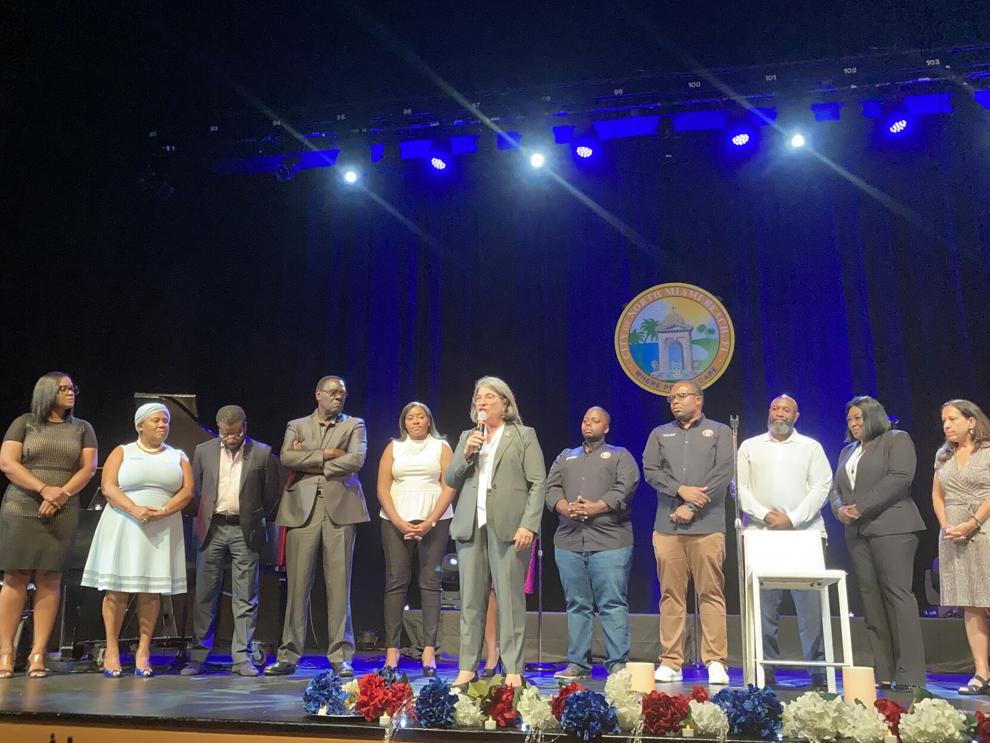 Elected officials from throughout South Florida gathered in solidarity.
Among those present were former Sen. Daphne Campbell; the first Haitian American mayor of El Portal, Philippe Derose; South Dade Rep. Kevin Chambliss; District 5 City Commissioner Jeffrey Watson; and Vice Mayor Paule Villard.
"To see the presence of elected officials standing in solidarity with the Haitian American community really meant a lot," said Edverson Raymonvil, a volunteer for Watson's office.
LHCC was decorated with numerous candles, funeral wreaths, bouquets of flowers and portraits of Jovenel Moïse projected onto walls.
Attendees of the event brought posters with messages of hope, some wearing shirts that read "We are Haiti, we are Martine Moïse," while others waved flags and candles during tribute performances.
Mikaben, a Haitian musician invited by Sounds of Little Haiti to the event, performed a rendition of Bob Marley's "No Woman, No Cry," tailored to the struggles in Haiti.
"It was a duty and an honor to support my fellow Haitians and honor our president because this is still a difficult moment for all of us. The diaspora is still in shock," he said. "And it is a relief to see the first lady return. We're happy to see her back on her feet; it's a symbol of courage and we artists wish her well. We hope that she finds justice at some point."
The singer just released a song recorded with his musician father, Lionel, and son Gabriel, urging people to right the wrongs made against their country.
"One thing people will always need is uplifting music," said Mikaben.
No food & gunfire in the streets
That sentiment was shared by the City of North Miami Beach leadership, consisting of four Haitian American officials, and the National Haitian American Elected Officials Network (NHAEON), who worked in tandem to host a solidarity memorial filled with musical tributes followed by a balloon and dove release.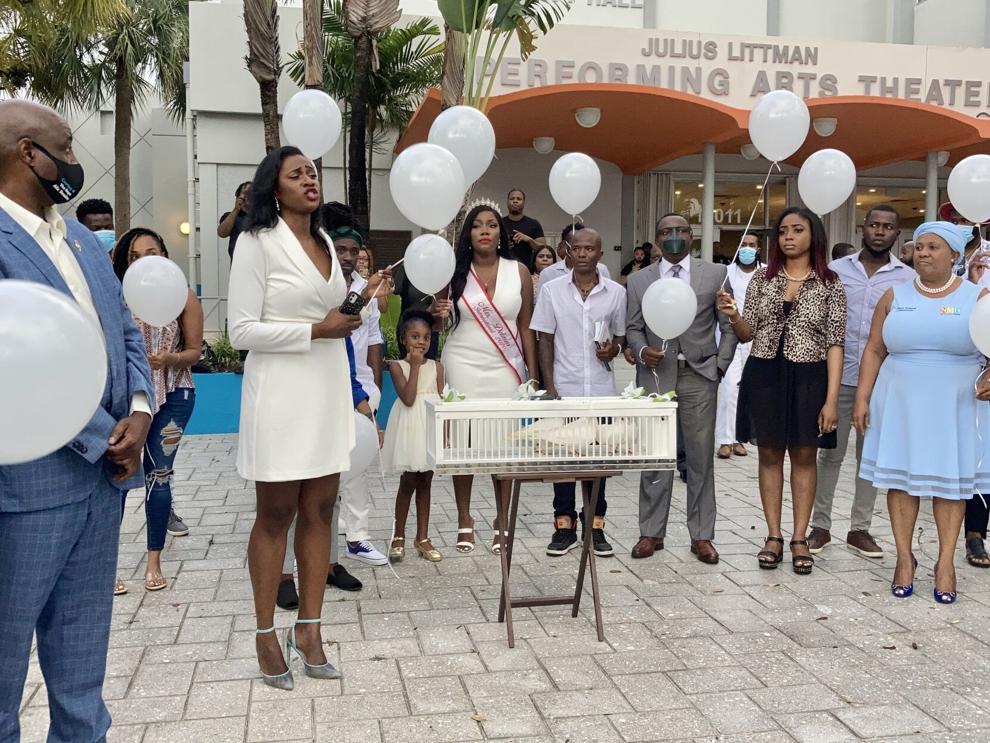 The memorial had a similar faith-centered atmosphere as the other events where prayers, poems and gospel music were shared to uplift spirits.
Leaders present expressed what they believe to be the best solution for the country at the moment.
"The most immediate need is security and a platform for providing vaccinations, if there's even enough for the people," said North Miami Beach Commissioner Michael Joseph, referencing the distribution process for the 500,000 COVID-19 vaccines the U.S. donated to Haiti last week. "Ultimately, it's all up to the people of Haiti to decide what they want to do, but given the fact that my family is from there I want to do as much as I can as a Haitian American to support Haiti."
As a member of NHAEON, Joseph is asking the federal government for a seat at the table when it comes to making decisions on how to support Haiti.
"Things are getting worse. The prices for food have gone up," said Villard, who left family behind to migrate to the U.S. at 21. "A bag of rice in Haiti that would have cost $7 in Haitian currency is now about $15 and the people don't even have that money."
According to Villard, Haiti is battling a rise in COVID-19 cases while its people are crippled by fear and locked inside their homes, unable to leave to find food or other necessities because of constant rounds of gunfire going off through the night.
"Is this going to be the last surge of violence in the country? We don't know, but we have to stand up and ask what's going on," she said. "The (Haitian) government has to start implementing programs that breed economic opportunities for the people and stop the violence."
Though united in cause, Haitian Americans are torn about the best approach to address the issues in Haiti. Some have requested U.S. intervention that could include the military.
The dubious value of military intervention
"As a veteran, I can tell you that military and humanitarian efforts don't go hand in hand," said Rodenay Joseph, a Haitian-born Army veteran who served in Afghanistan and Iraq. "It's a false pretense that people have married together but it won't bring peace. Haiti has a destabilization problem that does not require military intervention."
He suggests that the U.S. take a step back and evaluate ways allocating funds to Haiti has done more harm than good.
"All the monies pumped into Haiti have never materialized because the oligarchy receives 93% of whatever the U.S. gives," he said. "Only 2.2% of that wealth is allocated towards the development of the country. Congress should also stop giving loans to Haiti because they can't pay it back."
Joseph also said that humanitarian aid is a slippery slope. Although it may be beneficial, sometimes it may also pose a threat to the country's economy by flooding markets with imported goods that disrupt production in the ailing country.
The best thing to do, he said, would be for the U.S. to listen to the needs expressed by the Haitian government before offering assistance.
Loudwine Norcilus, who grew up in Haiti and was crowned Mrs. Delmar International 2020, said dual citizenship may be a good way to stabilize the country.
"I want the Haitian diaspora to be granted dual citizenship because if we have a way to vote and legally have a voice in what's going on there, we can see some type of change," she said, hinting at the instability within the government both before and after the assassination. "Letting the government lead themselves without a say from the people only leads to chaos."
To Norcilus' point, outrage from people across the world has already resulted in minor changes within the government. International backing for Haiti's designated prime minister, Ariel Henry, forced acting prime minister Claude Joseph to step down and allow Henry to take the reins.
In South Florida, leaders like Chambliss say it's best to let the Haitian American leaders here spearhead problem-solving and support initiatives, while non-Haitian elected officials like himself remain ready to offer assistance when requested.
"When I moved to Homestead and Florida City, one of the first communities that opened their arms to me was the Haitian community," he said. "Representation matters when it comes to things like this so I am following Rep. Dotie Joseph's lead. We do not know whether or not we might see a new migration, so if that happens we want to be ready to support them in South Dade."
He revealed that 15-20% of the Black population in his district, including migrant farmworkers, are of Haitian descent.
"It's the same call whether it's coming from Haiti, Cuba or right here in the United States. We just want freedom and peace," said Rep. Joseph at LHCC.
"All we can do is lend our voices as elected officials and representatives of this community," said Watson. "Anybody who can sign a letter, encourage, nudge or push folks who have the resources to change the situation, should do that."