While several candidates have been actively campaigning for Miami-Dade County's District 9 for some time now, a household name has thrown his hat in the ring to represent the South Dade communities. On Wednesday morning, records show that State Rep. Kionne McGhee officially filed his candidacy paperwork, to seek the seat soon-to-be-vacated by term-limited Dennis Moss.
Last Wednesday, Marlon Hill, a lawyer and community activist, officially announced his candidacy for the the County Commission seat during a campaign kickoff event at the South Miami-Dade Cultural Arts Center. Hill, who is running on a message of unity and prosperity for the different South Dade communities, believes his time is right to run for District 9 leadership. The slogan for his campaign is: "It's a new day."
"We are going through a leadership transition here in the county," Marlon told The Miami Times."It is important that the citizens pay attention to this transition and leadership."
All but one Black County Commissioners currently serving will vacate their seats next year as they reach the limit of the terms they can serve.
Current District 9 representative, Moss, has reached this threshold after serving on the County Commission for more than 25 years. District 1 Commissioner, Barbara Jordan, and District 3 Commissioner and Chairwoman, Audrey Edmonson, will also face term limits in 2020.
McGhee is the only candidate Moss is endorsing.
"I am 100 percent behind and supporting Kionne McGhee," Moss said in January. "That is where my support is."
"McGhee has shown the leadership and commitment needed to move South Dade forward as I leave the county commission," Moss said recently in a statement. "He understands the issues that the people of District 9 are experiencing."
McGhee currently represents House District 117 and is the minority leader. Also a lawyer, McGhee was first elected to the House in 2012.
Hill leads the way in fundraising for District 9. He has raised some $50,000, according to campaign contribution reports. The other candidates vying for the District 9 seat are Reverend Mark Coats of Grace of God Baptist Church and South Bay Community Councilman Johnny Farias. Records show that Coats has raised close to $34,000, while Farias has around $15,000 in campaign contributions.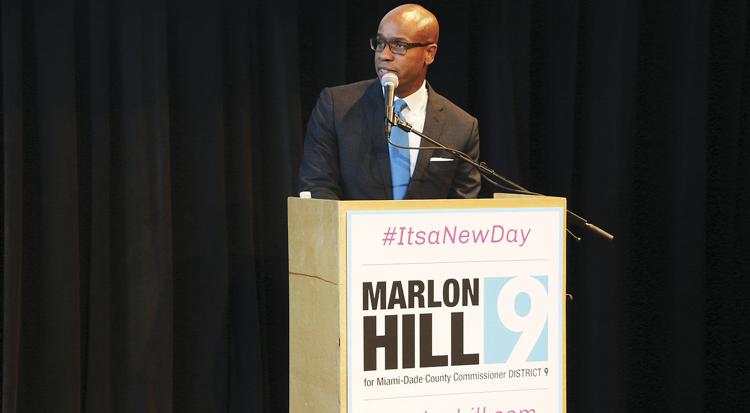 Born in Jamaica and raised in District 9, Hill has made a name for himself as a business lawyer, a community leader for Black and Caribbean issues, as well as an advocate for civic engagement and voter education.
"The time has come for me to elevate what I have been doing for years on a different platform," Hill said. His vision for District 9 is to bring unity to the district and improve South Dade residents' quality of life. He wants to turn the different communities into places where families can live comfortably and work without having to commute for hours into other parts of the county.
"My primary goal in this campaign will be to listen and learn from the residents of Southwest Miami-Dade County, and to help magnify their voices and needs to the halls of county government," Hill said.
District 9's varied makeup consists of posh residential communities such as Cutler Bay and neighborhoods that have been ravaged by gun violence such as Goulds and Naranja.
As of 2016, District 9 has a about 228,000 residents. Over 55 percent of the population is Hispanic, while close to 26 percent is Black, according to Miami-Dade County numbers.
Hill's vision of unity includes, "making families, businesses and neighborhoods more resilient, connected and not neglected on improving their quality of life, access to public goods and economic advancement," he said.
And though Moss has already publicly endorsed McGhee, Hill's supporters believe his activism and community service separate him from the rest of the candidates.
"I think it is a great day in Miami-Dade County when we have someone of the caliber of Marlon Hill running for office," said activist Marleine Bastien. She has known Hill for more than 25 years and together they have worked to advance different initiatives involving immigration, refugee rights, philanthropy and social issues.
Hill is the right person to run for office, she said. "He has been very active in servicing the community."
Hill must first win or place second in the primary and then be elected in the general election. Primary election day is set for Aug. 25, 2020; the general election is Nov. 3, 2020