More than 50 Texas lawmakers decided the only way to prevent passage of sweeping new voting restrictions in their state was to leave town. 
The procedural move to prevent quorum in the Texas state legislature created a dramatic showdown on Monday when Democrats bolted for Washington, D.C., and said they were ready to remain there for weeks in a second revolt against a GOP overhaul of election laws.
The mostly Black and Latino lawmakers traveled to Washington, D.C., aboard private planes, skipping town just days before the Texas House of Representatives was expected to approve restrictive voting laws in a special legislative session. Their departure from Texas meant the House would not have enough lawmakers in attendance to conduct business and could not, at least for now, vote on the bill.
The cross-country exodus was the second time that Democratic lawmakers have staged a walkout on the voting overhaul, a measure of their fierce opposition to proposals they say will make it harder for young people, people of color and people with disabilities to vote. But like last month's effort, there remains no clear path for Democrats to permanently block the voting measures, or a list of other contentious GOP-backed proposals up for debate.
Hours after they took off, Republican Gov. Greg Abbott told an Austin television station he would simply keep calling special sessions through next year if necessary, and raised the possibility of Democrats facing arrest upon returning home.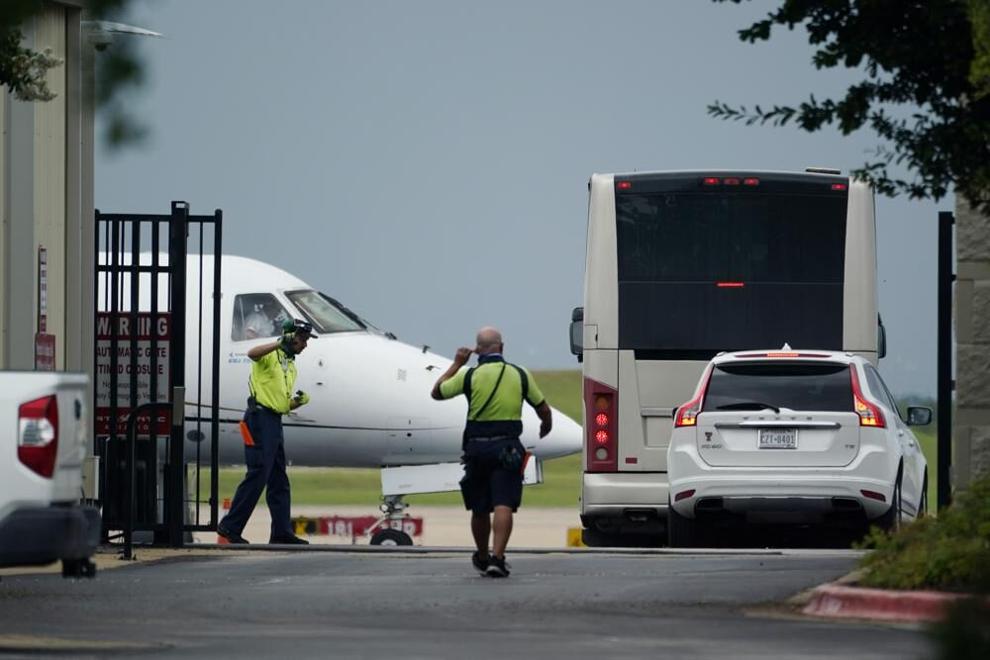 "As soon as they come back in the state of Texas, they will be arrested, they will be cabined inside the Texas Capitol until they get their job done," Abbott said.
Speaking in the airport parking lot, 29-year-old state Rep. Trey Martinez Fischer blasted the governor for likening the group to "animal or property, to say he will corral us and he will cabin us in the Capitol to get this agenda." After addressing the media, Black lawmakers led the group in singing "We Shall Overcome."
"We are determined to kill this bill," said state Rep. Chris Turner, who said he and his colleagues were prepared to run out the clock on a special session that ends early next month.
Democrats' decision to hole up in Washington is aimed at ratcheting up pressure on President Joe Biden and Congress to act on voting at the federal level. 
For his part, Biden delivered a major address on the issue Tuesday in Philadelphia, after facing growing criticism for taking what some on the left call too passive a role in the fight.
"This is a now-or-never for our democracy. We are holding the line in Texas," said Rep. Martinez Fischer. "We've left our jobs, we've left our families, we've left our homes. Because there is nothing more important than voting rights in America."
The Texas bills would outlaw 24-hour polling places, ban ballot drop boxes used to deposit mail ballots and empower partisan poll watchers.
The state has a history of attention-getting political tactics. Texas Democrats, shut out of power in the state Capitol for decades, last fled the state in 2003 to thwart a redistricting plan. They ultimately lost that fight.
Republican Texas House Speaker Dade Phelan promised to use "every available resource" to secure a quorum. He did not elaborate, but some House Republicans signaled they would take action when the chamber reconvenes. When Democrats fled the state two decades ago state troopers were deployed to bring them back.
The decision to flee carries risks, and no guarantee of victory in the long run.
Abbott, who is up for reelection in 2022 and has demanded new election laws in Texas, could keep calling 30-day special sessions until a bill is passed. 
Staying away for an extended time could also carry repercussions in next year's midterm elections, although many Texas Democrats are already expecting a difficult cycle in 2022, particularly with Republicans set to begin drawing new voting maps this fall that could cement their majorities.