While President Trump doubles down and refuses to concede the election, President-elect Joe Biden is warning of dire consequences if the current administration continues to refuse to coordinate with his transition team on the pandemic and block briefings on national security, policy issues and vaccine plans.
Monday's comments marked Biden's toughest position to date on Trump's failure to acknowledge his election loss and cooperate with the incoming administration for a peaceful transfer of power.
Biden leads Georgia by 14,122 votes. There is no precedent of a recount erasing a lead of that size, but he already has enough electoral votes without the Peach Tree State.
Trump's allegations of massive voting fraud have been refuted by a variety of judges, state election officials and an arm of his own administration's Homeland Security Department. Many of his campaign's lawsuits across the country have been thrown out of court.
No case has established irregularities of a scale that would change the outcome. Lawsuits that remain do not contain evidence that would flip the result.
A coalition of state election officials and the Trump administration's Cybersecurity and Infrastructure Security Agency has declared that the election was the most secure in history, with "no evidence that any voting system deleted or lost votes, changed votes or was in any way compromised."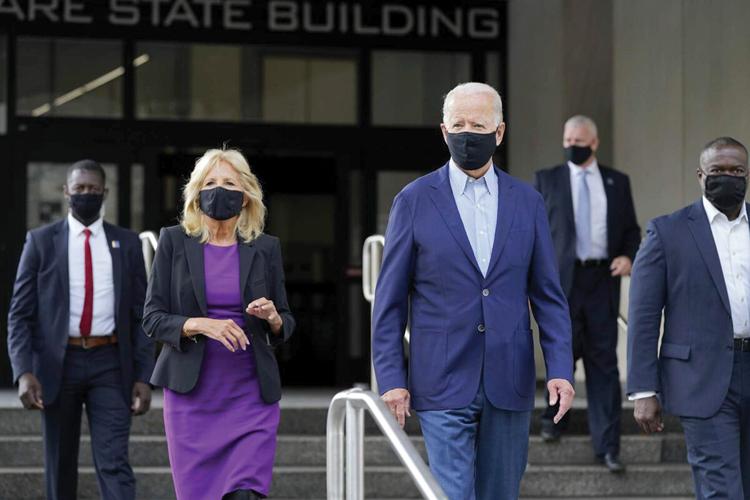 But the president continues to aggressively protest that the election was rigged, and won't budge on transition plans.
"More people may die if we don't coordinate," Biden told reporters during Monday's news conference in Wilmington, Delaware.
Biden and his aides have emphasized the importance of being briefed on White House efforts to control the pandemic and distribute prospective vaccines. The Trump administration is working on its own distribution plan, while Biden's chief of staff indicated his transition team will proceed with their own planning separately because of the obstruction.
Biden called the vaccine distribution a "huge, huge undertaking," and said that if his team has to wait until he takes office to dig into the government's distribution plan, they'll be "behind, over a month, month and a half."
"So it's important that it be done, that there be coordination now, now, as rapidly as we can get that done," he said.
Before taking questions, the Democrat outlined his plans to alleviate inequality and boost the U.S. economy but said that any structural reforms depended first on reining in the pandemic and delivering more immediate relief.
"Once we shut down the virus and deliver economic relief to workers and businesses, then we can start to build back better than before," he said.
Biden has vowed to spend trillions of dollars to reinvigorate U.S. manufacturing, expand health care coverage and combat climate change, among other priorities. But his chief priority remains controlling the pandemic, which is surging to record levels and forcing state and local leaders to implement new rounds of restrictions on local businesses.
The president-elect has so far tried to sidestep difficult questions about whether he might support a short-term national lockdown to arrest the surge of coronavirus cases. Since defeating Trump, Biden has devoted most of his public remarks to encouraging Americans to wear masks and embrace social distancing measures.
Biden was asked Monday whether he would encourage leaders to look at potentially reinstating stay-at-home orders now that the pandemic is surging nationwide. He avoided answering directly and instead called on officials to embrace mask-wearing and criticized those who haven't.
But from California to Pennsylvania, governors and mayors across the U.S. are ratcheting up COVID-19 restrictions amid the record-shattering resurgence of the virus that is all but certain to get worse because of holiday travel and family gatherings over Thanksgiving.
Leaders are closing businesses or curtailing hours and other operations, and they are ordering or imploring people to stay home and keep their distance from others to help stem a rising tide of infections that threatens to overwhelm the health care system.
"I must again pull back the reins," New Jersey Gov. Phil Murphy said Monday as he restricted indoor gatherings to 10 people, down from 25. "It gives me no joy."
New Mexico Gov. Michelle Lujan Grisham's stay-at-home order went into effect Monday. Only essential businesses, including grocery stores and pharmacies, will be open.
Washington's Gov. Jay Inslee ordered gyms, bowling alleys, movie theaters, museums and zoos to shut down indoor operations. Stores must limit capacity to 25%. People from different households will be barred from gathering indoors unless they have quarantined.
New restrictions announced in Philadelphia on Monday end indoor dining, close gyms, libraries and museums, and restrict gatherings inside homes starting Friday through Jan. 1, 2021.
Growing restrictions on indoor gatherings throughout the country make holiday celebrations unlikely for many. Biden said he and his family are trying to navigate the same issues, with safety measures.
The president-elect said he and his wife are planning to follow the advice of medical officials, who recommend no more than 10 people at a gathering, masked and socially distanced. Biden also said anyone at their Thanksgiving gathering will be tested for the virus 24 hours before getting together.
The restrictions may be difficult, but he said, "I just want to make sure we're able to be together next Thanksgiving, next Christmas."
The CDC is urging people to celebrate virtually or with members of their household, noting that in-person gatherings with people from different households "pose varying levels of risk." Guidance also notes that a gathering's size "should be determined based on the ability of attendees from different households" to socially distance and follow hygiene recommendations.