A deluge of rain from Tropical Storm Eta caused flooding Monday across South Florida's most densely populated urban areas in north Miami-Dade and South Broward, stranding cars, flooding businesses and swamping entire neighborhoods with fast-rising water that had no place to drain. People were seen wading through water and even canoeing down streets.
Due to the storm, 40,000 people lost power, which took Florida Power & Light most of the day to restore while workers waited for floodwaters to recede.
The system made landfall in the Florida Keys and posed a serious threat across South Florida, which was already drenched from more than 14 inches of rain last month.
"Never seen this, never, not this deep," said Anthony Lyas, who has lived in his now-waterlogged Fort Lauderdale neighborhood since 1996. He described hearing water and debris slamming against his shuttered home overnight.
"It was far worse than we could've ever imagined, and we were prepared," said Arbie Walker, a 27-year-old student whose Fort Lauderdale apartment was filled with 5 or 6 inches of water.
"It took us 20 minutes to navigate out of our neighborhood due to the heavy flooding in our area," Walker added. Floodwaters also submerged half of his sister's car.
In downtown Miami, an upgraded pump station capable of removing 50,000 gallons of water per minute on Brickell Avenue failed to work, stalling cars that had to be abandoned and towed away from intersections by midafternoon.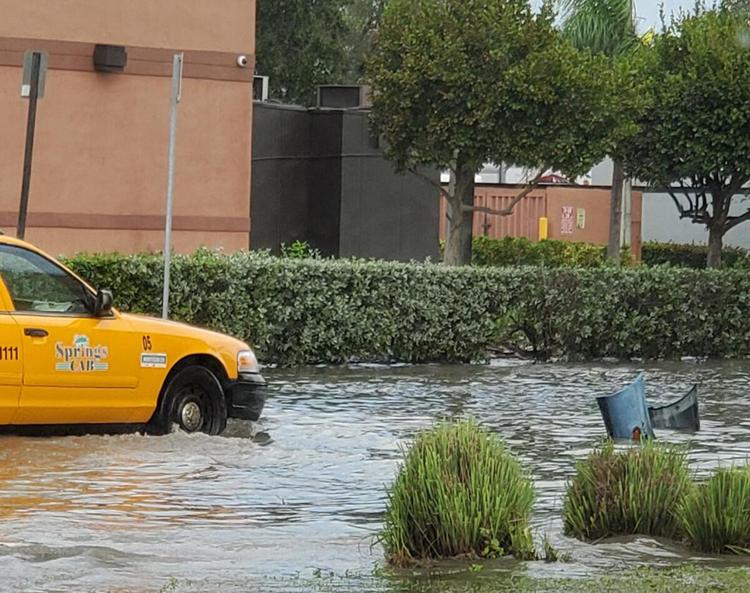 Eta hit land late Sunday as it blew over Lower Matecumbe Key, in the middle of the chain of small islands that form the Keys, but the heavily populated areas of Miami-Dade and Broward counties bore the brunt of the fury. It is the 28th named storm of a busy Atlantic hurricane season, tying the 2005 record for named storms. Hurricane season lasts until Nov. 30.
Forecasters said the system could intensify again into a minimal hurricane as it slowly moves up the southwest Gulf Coast. It is just far enough offshore to maintain its strength while dumping vast amounts of water across the lower third of the Florida peninsula.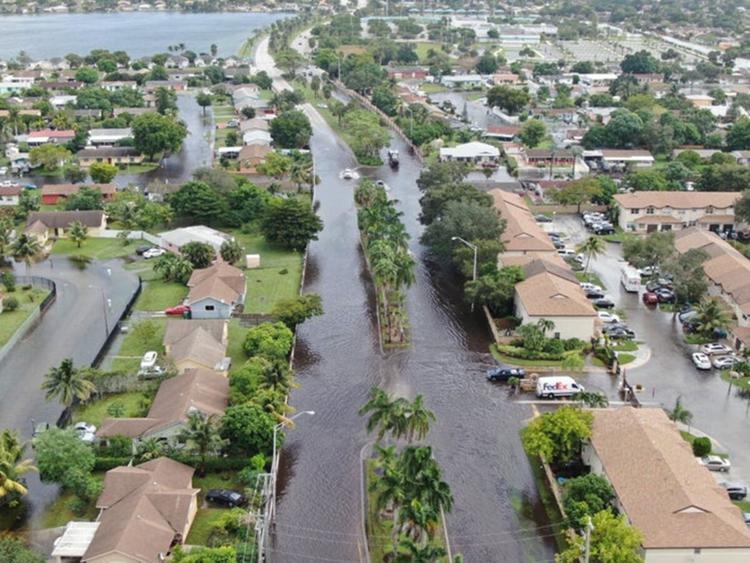 Fort Lauderdale Mayor Dean Trantalis called it a 100-year rain event.
"Once the ground becomes saturated, there's really no place for the water to go," Trantalis said. "It's not like a major hurricane. It's more of a rain event, and we're just doing our best to ensure that the people in our community are being protected."
City officials dispatched some 24 tanker trucks with giant vacuums to soak up water from the past few weeks. Some older neighborhoods simply do not have any drainage. The city also passed out 6,000 sandbags to worried residents over the weekend, but water seeped into homes and stranded cars in parking lots and along roadways.
Forecasts call for bouts of showers over the next few days.