"Until I read it, I wasn't aware of the scope of the city's intent to return to the bad old days of criminalizing homelessness," said homeless advocate David Peery, referring to a new plan to force homeless people out of view in Miami.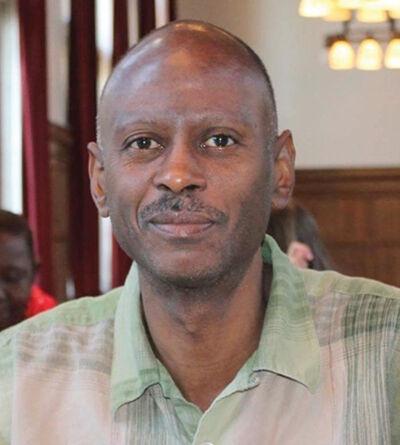 It's called the "City of Miami Street Clean Up and Encampment Resource Plan," and its stated goal is "to develop safe procedures so that communities in all five districts are free of homeless encampments and debris while assisting those struggling with homelessness by offering an easy transition to shelter and eventually more permanent housing."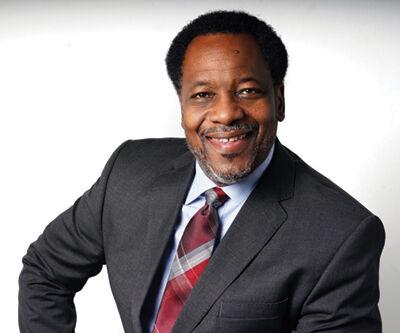 Four tent encampments were selected as "the first set of clean ups," two in Overtown, one near the Miami Rescue Mission building in Wynwood and one at "the approach bridge between Downtown and Flagler." They began on Feb. 10 and are all nearly completed. The fourth is scheduled for today. With the exception of the last sweep, the rest have taken place in City Commissioner Jeffrey Watson's District 5.
The ACLU is demanding that the sweeps stop immediately, including the following statement in a stern letter to city and county officials: "Eliminating all encampments would do nothing to address the City's failure to ensure an adequate supply of affordable housing. Further, at a time when police and other official violence against Blacks is under increasing scrutiny nationwide, the City cannot help but be aware that the population it is targeting and threatening with arrest is largely Black."
The coordinated cleanups involved as many as 10 City of Miami departments, including sanitation workers, police officers, code enforcement officers and "green shirts." Also known as Project Lazarus, green shirts are mostly former homeless individuals who assist the Miami-Dade County Homeless Trust and offer shelter beds when they're available.
The plan also called for the installment of cameras at 10 sites where homeless people are known to congregate, including four in downtown Miami, four in Overtown, a spot in Little Havana and one near Jose Marti Park. The city document states that cameras are being installed to "deter and detect illegal dumping around homeless encampments" to record drug use and drug sales and to "identify unpermitted feeders."
In June 2020, the city passed an ordinance restricting the feeding of more than 25 homeless individuals at a time. Violators can be fined $250 for the first offense and $500 thereafter.
The budgeted cost of the city's cleanup plan: $883,492.31. That figure includes $174,454.80 for a Hawk combination crane and dump trunk as well as a water truck, a street sweeper and a rear loader. On Feb. 10, our sister publication the Biscayne Times witnessed a Hawk crane being used to pick up discarded tents and other personal items left at a site under I-95 where a group of homeless individuals had recently been evicted, allowed to take only what they could carry with them.
The installation and purchase of 10 security cameras was budgeted at $5,826.
"All individuals will be given a choice to be transported to shelter, processed for relocation to another city (if they have relatives or friends who would accept them) or simply told they can no longer occupy the public-right-of-way or private property," the resource plan states. "Contaminated items will be discarded by the waste collectors. … These areas will be monitored by the cleanup coordinator, outreach workers and police officers to ensure these sites are not repopulated."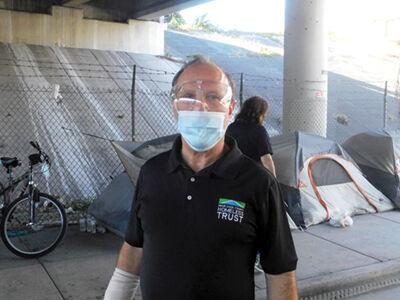 Ron Book, chairman of the Homeless Trust, said the organization was aware of the cleanups and that its employees were on site during their execution. Book, who is one of the most influential lobbyists in the state, said the Homeless Trust has generally worked well with the city, which has resulted in a 15% decrease in the unsheltered population, from 654 to 555.
"You can't arrest yourself out of homelessness," Book said. "Our success has been driven by a disciplined approach."
However, he said he was unaware of the City of Miami's overall plan until informed of it by the Biscayne Times, on Feb. 19.
"They're going to do what they're going to do," Book said.
Violating Civil Liberties
Benjamin Waxman, a board member of the Miami chapter of the American Civil Liberties Union, said the city's plan violates the constitutional rights of homeless individuals. Like Book, Waxman and the ACLU were unaware of the plan until the Biscayne Times shared it with them.
"They are simply clearing out areas and, according to the [City of Miami] document, telling people they can no longer return," Waxman said. "That is without any regard of whether or not they committed any criminal offense."
In the process, belongings of homeless individuals are often thrown away.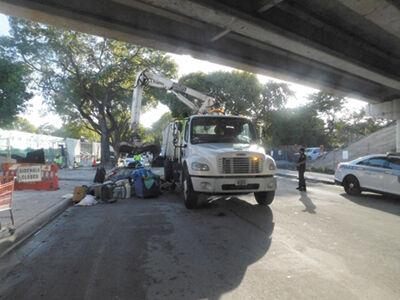 "There's a report of one guy who was dragged in his tent while [city workers] were attempting to take it," Waxman said. That individual was reportedly injured during the incident.
The clearings go against Centers for Disease Control and Prevention guidelines as well, due to the potential spread of COVID-19, Waxman added.
"The CDC guidelines specifically state that municipal and government agencies should refrain from clearing homeless encampments due to the risk that presents to the public health," he said.
Regarding the cameras, Waxman said: "I don't know if it is necessarily illegal … but it does raise significant privacy concerns."
The latest wave of encampment removals came four months after an appellate court terminated the 1998 Pottinger agreement, which, according to the ACLU, "protected the fundamental rights of people experiencing homelessness from living without fear of arrest or destruction of their property." The agreement followed a class-action lawsuit filed against the City of Miami by the ACLU in the 1980s.
The cleanups also come at a time when the city is reevaluating its homeless policies, including lobbying the state of Florida for the right to opt out of charging a 1% sales tax on all food and beverage sales made by business that sell alcohol for consumption on premises. A portion of those funds are earmarked for the Homeless Trust; doing away with the tax could create a $1.2 million hole in the county agency's $66 million budget.
Watson said he and his colleagues are regularly inundated by complaints from small businesses and residents about homeless encampments.
"There is a visual manifestation of a problem that we have to do something about," said Watson, who also claims the commission wants to leverage city resources and assist partners like the Homeless Trust to further reduce Miami's unsheltered homeless population.
"We are trying to see if we can get it down another 40 or 50%," he said.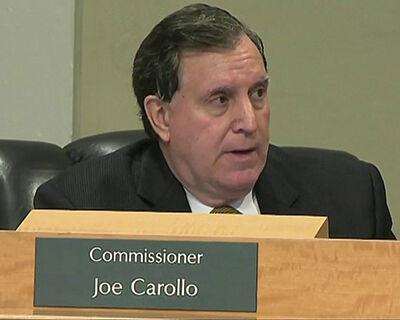 But Miami City Commissioner Joe Carollo, who represents District 3, opined in recent public meetings that the city is being far too easy on homeless people, suggesting that homeless assistance programs should be defunded. He says homeless are traveling to Miami from all over the nation to "do their drugs," frighten and steal from residents, litter sidewalks with tents and sofas, and urinate in public, because the city is too soft on vagrancy.
"The only ones who don't matter are residents who pay their taxes, who want to give their families a better place to live in," Carollo said during a Feb. 3 publicly noticed meeting on homelessness. "I am going to start placing motions … to start defunding programs. To start defunding individuals who work for us."
Watson said Carollo – who refused to be interviewed for this story – is just expressing his frustrations.
"He is frustrated. The city is frustrated. Everybody is frustrated," Watson said.
Peery said Carollo's statements are not only insensitive, they're inaccurate. Most unsheltered individuals in Miami-Dade have been on the streets for three years or more, said Peery, who was homeless himself in 2011. He pointed out that the homeless population in most major cities is five to seven times larger than that of Miami, which he credits to the Pottinger settlement.
"It changed the whole mind set," Peery said. "Instead of arresting people we have put our resources into putting them into shelters."
Unfortunately, he continued, the recent homeless sweeps demonstrate that the city is still willing to violate the rights of the homeless, an action that could lead to another class-action lawsuit against Miami.
"The city intends to double down on civil liberties violations by installing creepy surveillance video cameras to monitor the homeless. But there's nothing in the plan to increase shelter capacity or fund affordable housing. This is a big deal, with major public policy implications for all of Miami-Dade County," said Peery
The Availability of Shelter Beds
Book said his agency and other organizations "did not do a good job" explaining to Miami officials the impact they've made in reducing the number of homeless individuals in the city.
Thanks to the Homeless Trust and its partners, insisted Book, Miami-Dade County's unsheltered homeless population has shrunk from 8,000 in 1992 to 3,245 in January 2021. Of those 3,245 individuals, the Homeless Trust stated that only 892 remain unsheltered. The remaining 2,353 are in emergency shelters, safe haven spaces or transitional housing.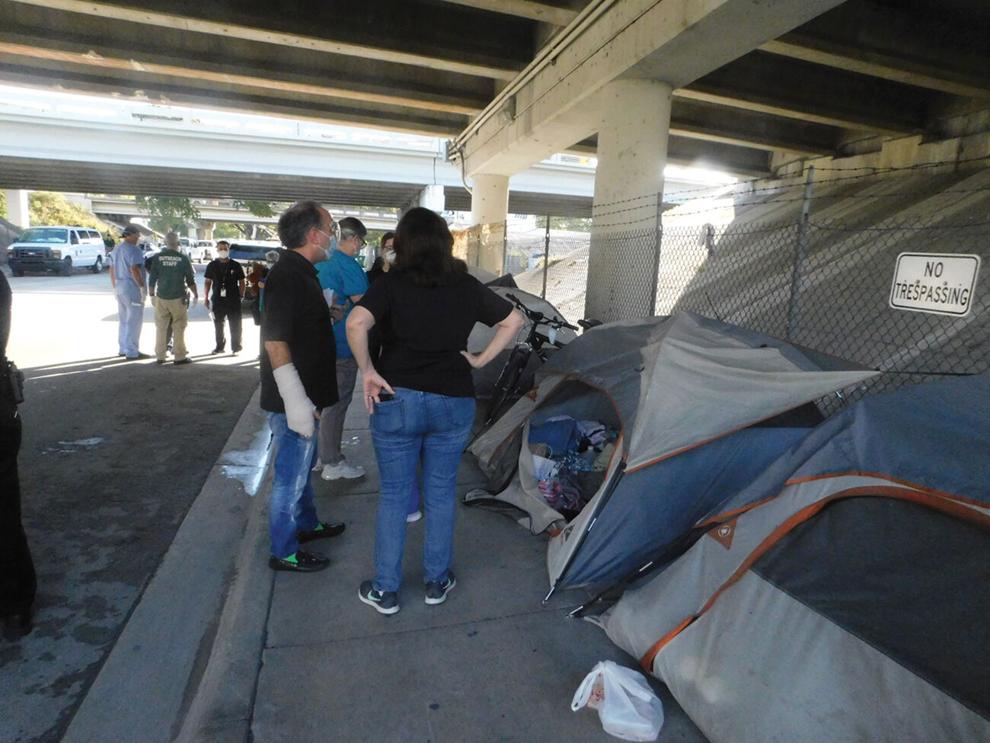 "Go back [29 years] and you could not touch an underpass in this community and, in particular on the east side, that was not packed with cardboard shanties, plywood shanties," Book declared.
And while most of the county's unsheltered homeless are within the City of Miami, so, too is most of the Homeless Trust's resources, Book added. While the city's resort tax contribution to the agency is $1.2 million, it provides $1.9 million in services, according to figures provided by the Homeless Trust.
Additionally, Book said they've managed to leverage federal COVID-19 emergency dollars in order to obtain more beds for homeless individuals in five hotels – St. Michaels in Homestead, Dunns-Josephine in Overtown, Mia Casa in North Miami, and the Red Roof Inn and Hampton Inn on LeJeune Road near Miami International Airport. Because of those rooms, which are used to quarantine homeless individuals before they're sent to other emergency shelter options, Book said he has a surplus of beds available.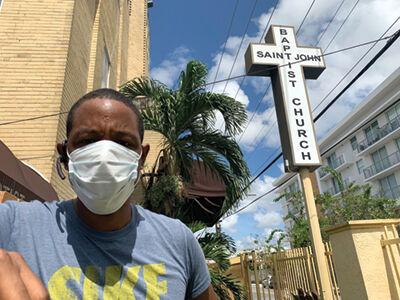 But Dr. Armen Henderson, an assistant professor of medicine at the University of Miami and director of health programs for Dream Defenders, insisted that the county's shelter system doesn't have enough beds available, and said that Miami-Dade's unsheltered population is undercounted.
"[Homeless Trust data] is not in tune with what I've seen," said Henderson, who provides health care services and COVID-19 testing for unsheltered individuals in Miami. "I was seeing a lot of newly homeless individuals."
Henderson, who in April 2020 was handcuffed and detained by a Miami police officer outside his home under suspicion of "illegal dumping" as he was loading his van with tents and other supplies for a homeless encampment (an incident that made local and national headlines), said that many of those unsheltered individuals were "working homeless" who "go to work every day" and then "sleep on the street."
"The shelter beds versus the people out on the street, we just don't have enough," he said.
It is because there are so many unsheltered people that Dream Defenders provided tents and food to them, Henderson explained. Those actions were denounced by Book, who claimed it discouraged homeless individuals from accepting shelter. (Book also asserted that the Homeless Trust administered 16,600 COVID-19 tests and vaccinated more than 200 people over the age of 65.)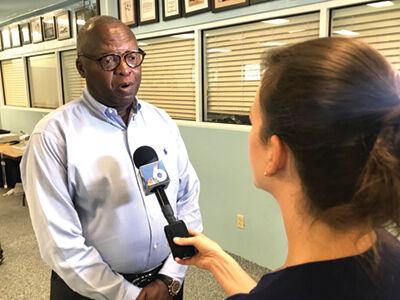 Milton Vickers, the former director of the City of Miami's Human Services Department, which oversaw the green shirts, said homeless encampments are not removed unless it's clear that shelter beds are available.
"You don't dismantle an encampment unless you have someplace for [homeless people] to go," said Vickers, who resigned last month following angry tirades from Carollo against him and the green shirts during recent city commission meetings.
As for the city's encampment clearing plans, Vickers argued they've become necessary for both the public and homeless people themselves. Besides blocking public sidewalks and keeping customers away from local businesses, the encampments are unhealthy for the people living in them. Most are located in Overtown and have become centers for prostitution and illegal drug dealing, he added.
"I don't think the city has very much choice," Vickers said. "If you look [at those encampments], there are conditions that you would not want any human being to live in."
Book said he is worried about the future.
Approximately 7,400 eviction cases have been filed in Miami-Dade County's court system, with more sure to come. Although the City of Miami has secured $14 million in federal funds to prevent evictions – and Miami-Dade County another $60 million – it isn't clear if that will be enough to prevent thousands of people from being thrown into the streets if the CDC moratorium on evictions and home foreclosures isn't extended past March 31.
"That's almost 24,000 people under orders of eviction," Book said. "What the hell do they think this community will look like? A third of those people are 65 years of age or older who have never been fu**ing homeless."