"The last three months have been hell for me," said Shirley Gibson, an 86-year old West Grove native who's one of the latest victims of a frightening financial crime.
Last month, Gibson went to pay the property taxes she owed on three vacant lots in the West Grove. The properties have been in her family for more than 100 years, and she grew up right beside them.
But when she arrived at the tax collector's office, county staff informed her that she didn't have to pay for one of the lots. Apparently, they had already been paid for by its new owner, Ollie Development LLC out of New York.
County records show that Ollie Development LLC purchased Gibson's property for $230,000 in March – a lot Gibson said she never put up for sale.
She contacted a lawyer and obtained a copy of the deed transfer from the tax office, which bears what she says is her forged signature.
"I was horrified," said Gibson. "It's just mind-boggling that someone can snatch your property from you, go down to the courthouse and just forge your name."
The Miami Times obtained a copy of the deed through her attorney, David Winker.
Winker said when he reviewed the document, he quickly saw that Gibson's signature on the deed did not match her signature on her driver's license and other documents.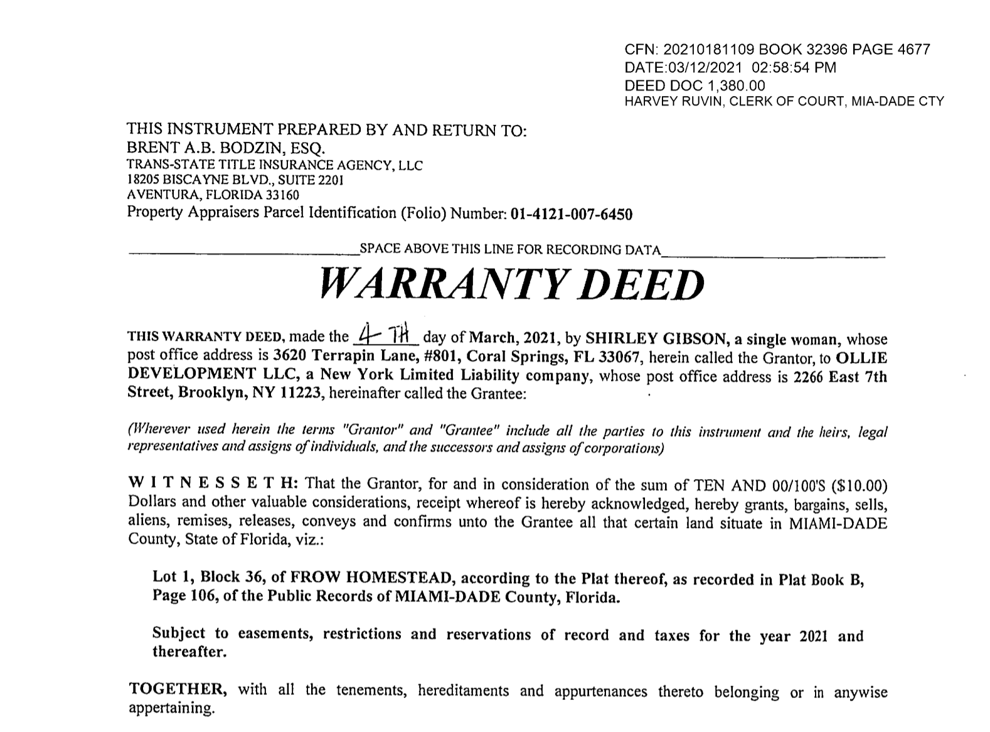 Winker and Gibson filed a report with the Miami Police Department and an investigation is currently underway. Winker also sent a letter to the Secret Service field office in Atlanta, which specializes in financial crimes.
Trans-State Title Insurance Agency LLC is the title company that oversaw the alleged deed transfer. The company's president, Gary Bodzin, declined to disclose how the deal started because of ongoing internal and police investigations.
In addition, the deed seems to have been notarized by Mohamed Chraibi. However, he claims he was not a part of the transaction and is another victim of identity theft.
If an imposter signs a deed or a deed is found to be fraudulent, it is no longer valid in the eyes of the law. Therefore, Gibson technically still owns the property. She wonders what would've happened if she hadn't noticed there was a problem sooner.
"If [the fraudsters] did that, they thought they could get away with it because I'm old," she said. "If you're not vigilant and checking on it when you do realize, it might be very late and hard to get your property back."
More than 50 other cases of similar deed fraud are currently being investigated by the Miami Police Department, as first reported by NBC 6.
According to Winker, his phone has been ringing off the hook with similar cases in the West Grove. He said that most of the alleged victims are elderly African Americans.
"I don't want to tie everything into race, but it does involve race because this is a Black community that's just under siege on every front," Winker said.
Fraudsters aren't the only threat to West Grove residents. The widespread deed fraud may just be a symptom of a larger problem, which involves the neighborhood's changing landscape.
As previously reported in The Miami Times, the Miami City Commission unanimously approved an ordinance to rezone six lots at 3227 Charles Ave. from single-family to low-density commercial on March 25. The lots belong to Stirrup Properties, a company owned by the locally renowned Stirrup family, original West Grove settlers.
Projects like the Stirrup development, rising property values and the area's demographics have made the West Grove a perfect target for scammers, according to Winker.
"This neighborhood is being transformed and that attracts people, including fraudsters," he said. "It's almost like these lots have gone up so much [in value] that the West Grove has become a target-rich environment for people to come in and try to grab things."
This sentiment was echoed by Gibson, who has been approached by realtors and developers in the past about selling her empty lots.
"The developers want them, and they'll do anything to get them," she said.
Stories about the West Grove from 60 years ago characterize the neighborhood as a strong base of working- and middle-class African Americans. People owned their homes, neighbors watched out for each other and children played hopscotch on the streets. It was a different time.
Now, other groups have moved to the area, many of its historic homes need some work and residents claim traffic from the highway is diverted onto their once-quiet streets.
They believe redevelopment won't help matters, especially the Stirrup Properties proposal. Concerns abound about a 66-unit hotel complex leading to increased traffic, the surrounding properties going up or down in value, gentrification and over-commercialization of their residential neighborhood.
Gibson and other concerned West Grove residents asked Winker to represent their interests at the final reading of the rezoning ordinance for the Stirrup development that took place May 27. He was able to negotiate with Stirrup Properties in front of the commission. The latter agreed to add speed bumps to the development plan, a $15 minimum wage for hotel employees and priority hiring from the area – small wins. The commission unanimously passed the ordinance.
Miami City Commissioner Jeffrey Watson said he voted to pass the ordinance because although opposers claim it will lead to gentrification, the developers are African American pillars in the community.
"A number of neighbors were in support of it, and for a long time African Americans in that part of the community were trying to get commercial development," he said. "And, of course, it was on land that is owned by family members of some of the historical members of the community.
"I won't say the residents didn't have valid concerns," he continued, "but I will say the concerns that I heard were not concerns stemming from this project."
But Winker and the concerned residents believe more must be done, especially if developers are to blame for all of the turmoil. Only time will tell the outcome of this community in transition.