The city managers of North Miami and Miami have started the new year under fire.
Last week, both cities held meetings announcing the current employment status of North Miami City Manager Larry Springs and Miami City manager Emilio González.
NORTH MIAMI
Springs gave his farewell to city council, staff and residents at the regular council meeting Tuesday, Jan. 14.
"Of course I know that nothing lasts forever, and I've been through this process a few times," he said laughing.
Having served as North Miami city manager for four years, Springs highlighted the relationships he has established with county and city of Miami officials – a hint toward his continuation of public service.
"Plan on me being in your face for longer," he added.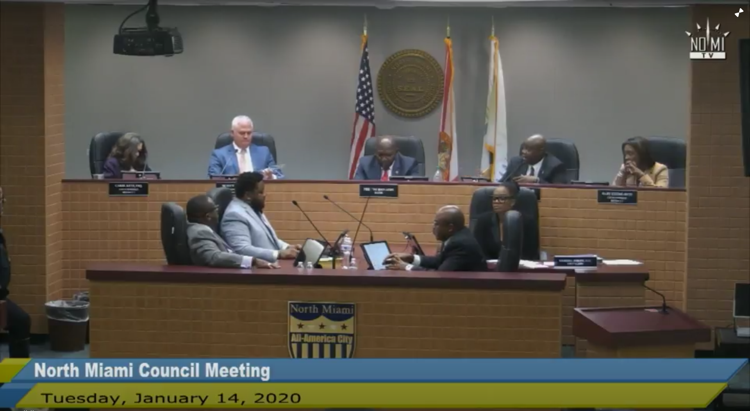 Deputy City Manager Arthur Sorey thanked Springs for his hard work and dedication over the last four years.
"This is the first time that we've been on the forefront of a lot of things, and we're not behind other cities with somebody telling us what we should be doing," he said.
Spring's termination comes after four out of five members of the council voted for his removal.
Though he was removed by the council, members spoke in praise of his service throughout the years.
"I respect if some others on the council want to go in a new direction, sometimes that happens in politics and government life," Councilman Scott Galvin said. "But Larry, I've sat up here for a lot of years, been through a lot of city managers and you are the best we've had in decades."
To clear up any rumors surrounding Springs removal, Councilman Alix Desulme added, "Professionally, if I stand here and said there was one thing or another he [Springs] did not deliver on policy wise, I would be lying because that's not what he did."
MIAMI
González announced his resignation as city manager in a letter addressed to Miami Mayor Francis Suarez Thursday, Jan. 16. He was appointed to the position by Mayor Suarez in December 2017.
In his letter he wrote:
"Our city commission meetings have devolved into a circus. Personal discussions have given way to the politics of personal destruction. As a city manager and more importantly a resident, I think it is best for our city if I remove myself from this spectacle."
His resignation comes after the city's regular meeting Dec. 12 where Commissioner Joe Carollo accused González of abusing his power to get six departments to sign off on a building permit and called for a motion of termination.
Carollo's motion to fire González failed, but commissioners agreed to have the independent auditor general investigate the allegation.
A special meeting was held the day after González resigned on Friday, Jan. 17 to discuss his employment and investigation status.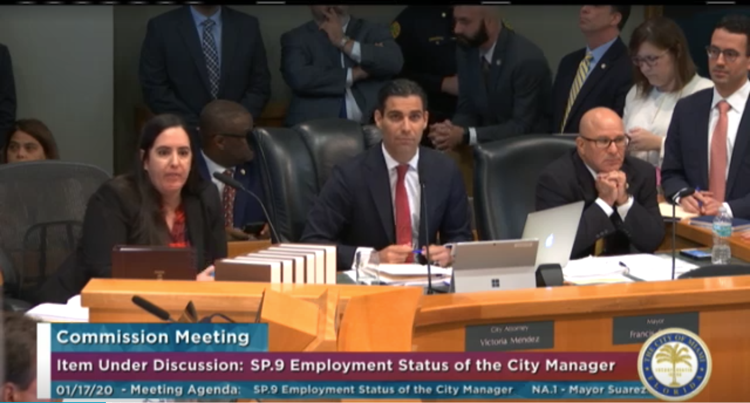 During the special meeting, Suarez went on the record deeming the investigation "unlawful and subject of a mayoral veto, which was not overturned properly at the last city commission meeting."
According to the mayor, "the [commission] directive subsequent to the veto was unlawful because it was not done according to code."
City attorney Victoria Méndez said the mayor's veto was inadmissible in this situation because the city code states that the mayor only has veto authority over legislative, quasi-judicial, zoning, master plan or land use matters, including budgets.
The mayor further explained his decision to veto stems from a "blatant conflict of interest" since the investigation is controlled by those making the allegations.
The independent auditor general Theodore P. Guba is leading the investigation, and Suarez argued that an investigation by the city attorney or Miami-Dade's ethics committee would be more appropriate.
Under special assignments for the independent auditor general, the city code says only the city commission is authorized to execute special audits and assignments in matters not expressly set forth in IAG duties.
Furthermore, Carollo accused the mayor of wanting the investigation handled by the city attorney or county EOC because, "it will take 1.5 to 2 years and buy him [Suarez] time."
The IAG was unable to provide details or the status of the investigation because it is still ongoing, but assured commissioners he had a reputation for getting these things done expeditiously.
As for the city manager position status, Suarez said he will meet with González to establish the date his resignation will go into effect and begin researching qualified candidates for his replacement.