A group of West Grove residents are mobilizing to stop or slow down a proposed hotel development they fear will increase gentrification, hike hazardous traffic and commercialize their residential street.
The project they are seeking to stop, a proposed 66-unit hotel complex near the old Coconut Grove Playhouse, has been endorsed by at least two West Grove area organizations as well as several West Grove activists. On March 25, the Miami City Commission unanimously approved an ordinance rezoning six lots at 3227 Charles Ave. from single-family to low-density commercial. The second and final reading of that rezoning ordinance is scheduled for a May 27 commission meeting.
However, several residents living within 500 feet of the proposed hotel project say they didn't know about the potential rezoning until just a few days prior to the first reading. Nearly all of those residents oppose the rezoning, said Anthony Vinciguerra, a former coordinator for St. Thomas University's Center for Community Engagement who has lived in the West Grove for the past 15 years.
More than two dozen homeowners and renters gathered on a vacant lot Monday evening to discuss the potential impact on the West Grove. Most of the residents who met at the field are white. But there were also a significant number of Black homeowners critical of the potential project as well, many of whom are descendants of Bahamian settlers whose families have lived in the West Grove for decades – some since the late 19th century. Among them was Shirley Gibson, a lifelong West Grove resident and activist whose great grandmother settled in the area in 1879. Gibson said the hotel will be built right up to her property line.
"We have some Blacks who think it's good for the Grove but they don't own property up in here," Gibson told The Miami Times. "They say it will be jobs and opportunity, but they don't know that. And hotel [jobs] are low paying jobs."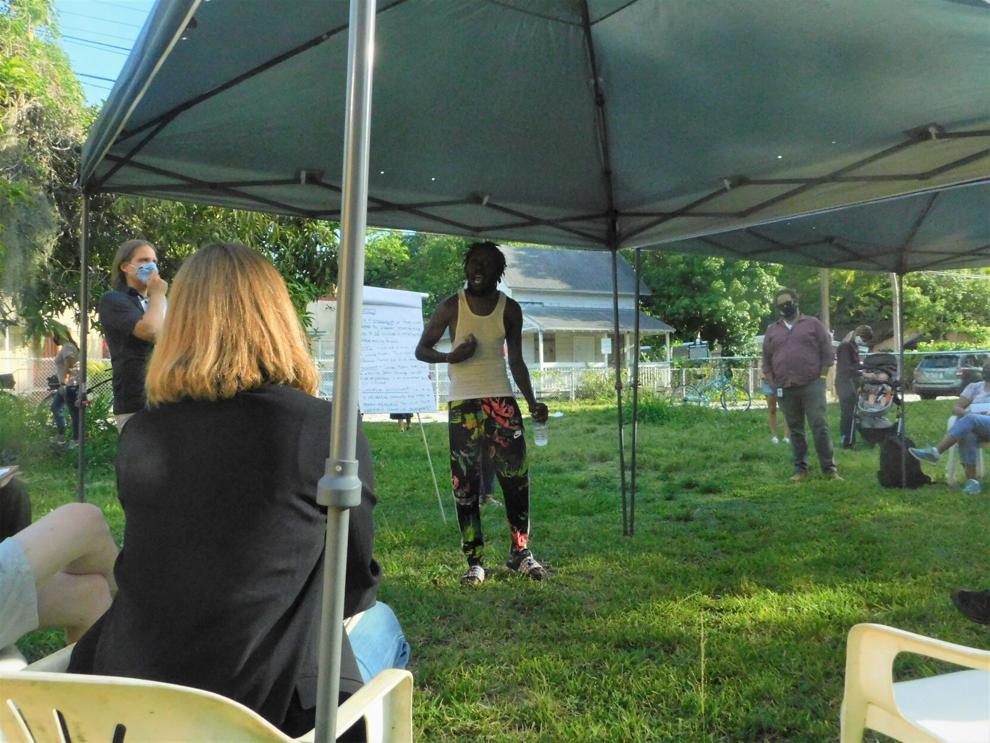 Dandrise Clay is worried that he won't be able to afford to live in the home he inherited from his grandparents, thanks to rising property values and – with them – rising property taxes.
"It hasn't been built yet and my taxes have increased threefold already," said Clay, who has lived in the West Grove for the past 30 years.
William Armbrister, a retired Florida Power & Light foreman and lifelong West Grove resident, said projects like the hotel will force out the remaining Black residents in the area, and some of the newer white arrivals as well.
"It is making it impossible for residents to remain here," he said. "It is just plain old racism, and [developers] are using elected officials to carry out their agenda."
But David Porter, president of Stirrup Properties and the great grandson of West Grove pioneer and developer E.W.F. Stirrup, said it isn't the planned hotel project his family and partners are planning that's causing property taxes to rise. Instead, it is the developers who are building large homes on lots they purchased for $500,000 apiece.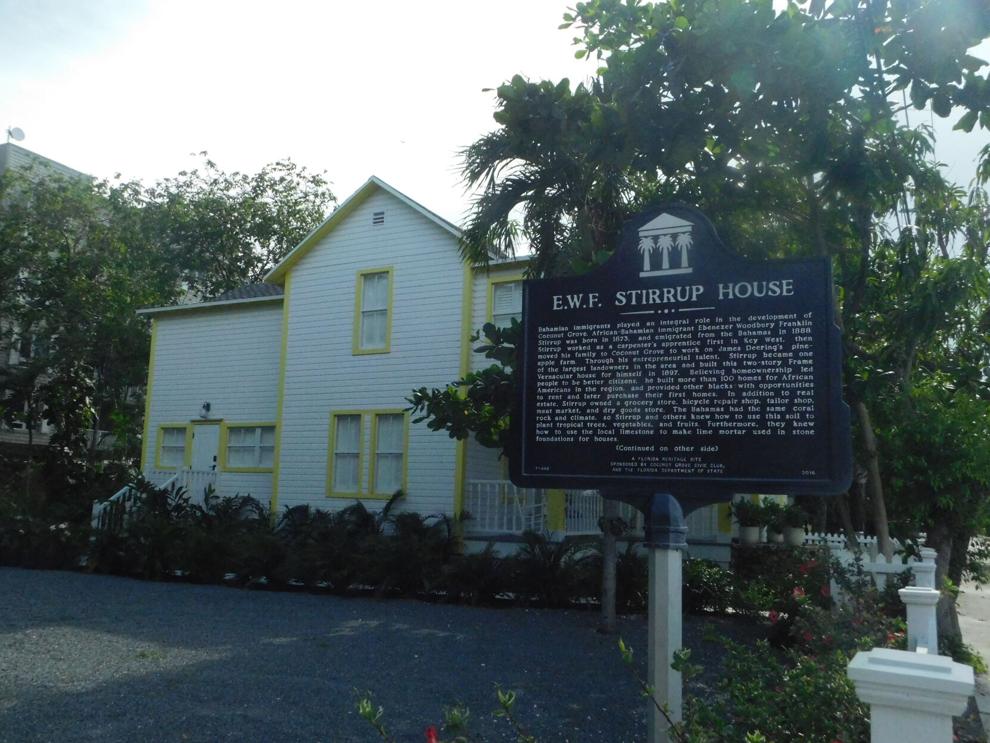 Porter said the hotel project, which will be called the West Grove Inn, will consist of no more than eight Bahamian-style buildings and compliment the circa 1897 E.W.F. Stirrup House across the street at 3294 Charles Ave. that now operates as a bed-and-breakfast.
"This is going to be next to my aunt's house right here. My cousin's house is right here. We are not going to build something next to them that is crazy or whatnot," he said.
The West Grove Inn will be developed by Stirrup Properties, which is owned by descendants of E.W.F. Stirrup, in partnership with real estate investors affiliated with Aries Development, Colliers and Lamar Acquisitions. Due to the team's promises to hire locally and contribute $150,000 to the nonprofit Rebuilding Together Miami-Dade, which will use the funds to help repair houses and apartments in the West Grove, the project was supported by Grove Rights and Community Equity (GRACE) and the Coconut Grove Village West Homeowners & Tenants Association (HOTA). Former Miami City Commissioner Thelma Gibson (no relation to Shirley Gibson) was among the people speaking in favor of the rezoning last March.
But Vinciguerra, who is white, said GRACE and HOTA never bothered to contact homeowners who live near the proposed hotel development. At the very least, Vinciguerra said he'd like some sort of assurances that the impact of the hotel on the surrounding neighborhood will be mitigated.
"We are hoping that the city doesn't rezone it. If they do rezone it, we want strong commitments from the city," he said. Those commitments would include assurances that commercial traffic won't plow through the narrow residential street and ban the establishment of a restaurant or bar in the future hotel complex.
Neighbors at the gathering are also worried that the rezoning of the six lots will encourage other property owners to seek their own commercial rezoning. Vinciguerra said he's already seen advertisements from Zillow posted by West Grove property owners claiming their properties can be rezoned.
"It's like a domino effect," Shirley Gibson explained.
Carolyn Donaldson, vice chairwoman of GRACE, said her organization stands by its decision to back the project, noting that they were able to negotiate a package from developers that will be a benefit to the community. As for fears of increased traffic, Gibson said most of it won't be coming from the future Grove Inn.
"If the Playhouse opens up, there will be a hell of a lot more traffic (there) than at the Inn," Donaldson said.
Indeed, this past April, an appellate court threw out Miami Mayor Francis Suarez's veto of Miami-Dade County's plans to substantially renovate the circa 1927 Coconut Grove Playhouse and transform it into a 300-seat theater with retail, offices and a 300-space parking garage.
Porter argued that the Grove Inn will act as a buffer between the residential segment of Charles Avenue and the future Coconut Grove Playhouse. Besides the trees already on the property, Porter said more will be planted. He even argued that the hotel will bring the lots back to their original state: commercial.
"I think that people who are concerned about the historic nature of this land, they should understand that this was my great-grandfather's business area," Porter said. "Once upon a time, he had a department store in partnership with Burdines. He had a rooming inn. He had a bicycle shop. He also had a place where he kept his horses over there, and his chickens."
"That was before my time," replied Shirley Gibson, who was born in 1934. As long as she can remember, the lots either had houses on them or were vacant.
The hotel doesn't have the full support of all the developer's descendants. Paul Jackson, another great-grandson of E.W.F. Stirrup, said he just moved to the West Grove six months ago. A 2.5% owner of Stirrup Properties, Jackson said he hasn't entirely signed off on the project, though he stressed he wasn't against it either. Jackson, who attended the Monday gathering, wanted to make sure his easement near the future hotel project "was good" and that the city do more to help the street's conditions, including garbage cleanup and the creation of a restrictive residents-only parking zone.
"I wasn't engaged [before]," said Jackson, a former radio journalist from Seattle. "But I am engaged now."
Absent from the meeting was Commissioner Ken Russell, whose district includes the West Grove and championed the rezoning. Though invited to come, Russell was unable to attend due to a family emergency, said his chief of staff, Abigail Mahony. Mahony said her boss would likely move for a deferral on the rezoning while neighbors work to meet with the commissioners and developers later this month.
David Winker, an attorney representing residents opposed to the hotel, said his clients have standing to challenge the rezoning in a court of law, especially since no one engaged people living nearby.
"This is what gives us grounds if things don't go our way," Winker said. "Spot zoning is frowned upon. We don't want our neighborhoods to be determined by political muscle."