Martha Wells was brought to tears when she saw her 2021 Toyota Corolla.
The Miami-Dade County community liaison used to wake up every morning an hour earlier to determine how she was going to get to work – ask her sisters for a ride or ask her adult children to call an Uber for her. Now that she has her own car, she no longer has to stress about how to get to her destination, and she can get an extra hour of sleep.
"It's a blessing," she said. "My God, I needed this, I really did."
Wells is one of six District 5 residents that received new vehicles, thanks to Wheels to Work, an annual program of the Martin Luther King Economic Development Corporation, which helps low-income residents get on the road to success. This year, participants were chosen by community stakeholders that included Notre Dame d'Haiti Catholic Church, the Puerto Rican Chamber of Commerce and the Foundation of Community Assistance and Leadership (FOCAL).
Wheels to Work organizers kept the surprise a secret from each recipient, up until the moment they walked outside the building and came across their vehicles, tied with large red ribbons across each windshield.
Prior to the big reveal, Wells was told she'd be attending a meeting at the MLKEDC building. The organization's president and CEO, Christine King, asked Wells to sit in and listen to how the Wheels to Work program was being structured, and if there was anyone in the community she knew that dealt with hardships and is deserving of a car.
"I sat into the meeting just taking notes. I had no idea, I had no idea," said a still-dazed Wells. "I'm like – right now I'm shocked."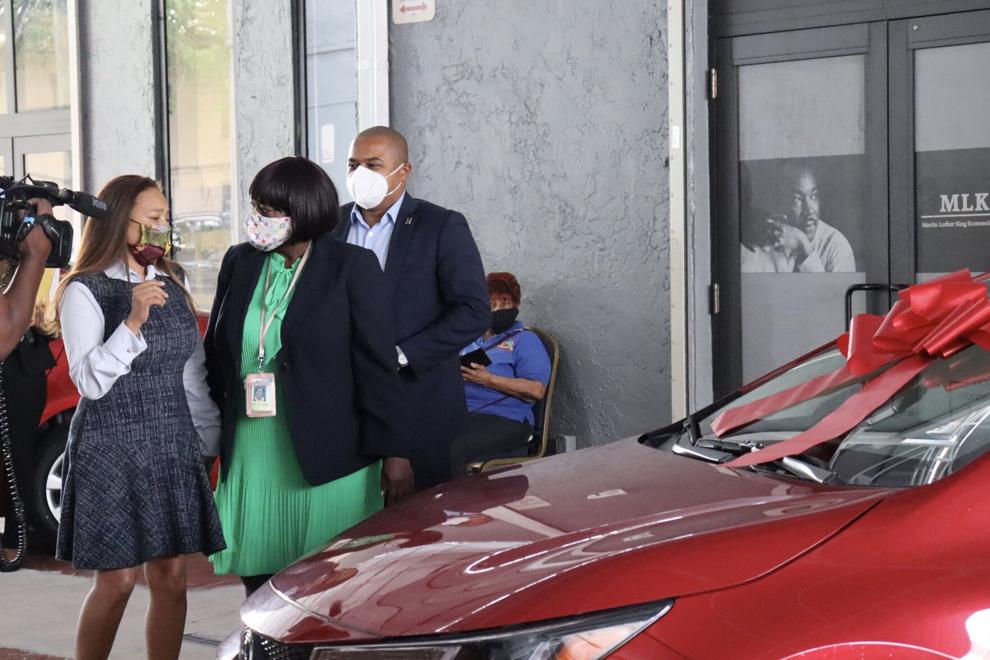 She hugged District 3 Miami-Dade County Commissioner Keon Hardemon, who handed her the keys. Hardemon funded the Wheels to Work program during his time as a city commissioner for District 5, as part of his anti-poverty initiative.
Another recipient, Jeremiah Thompson, received not one, but two surprises. His mentee, Asher Ndah, showed up with the keys to his new car and the two embraced with cries of excitement.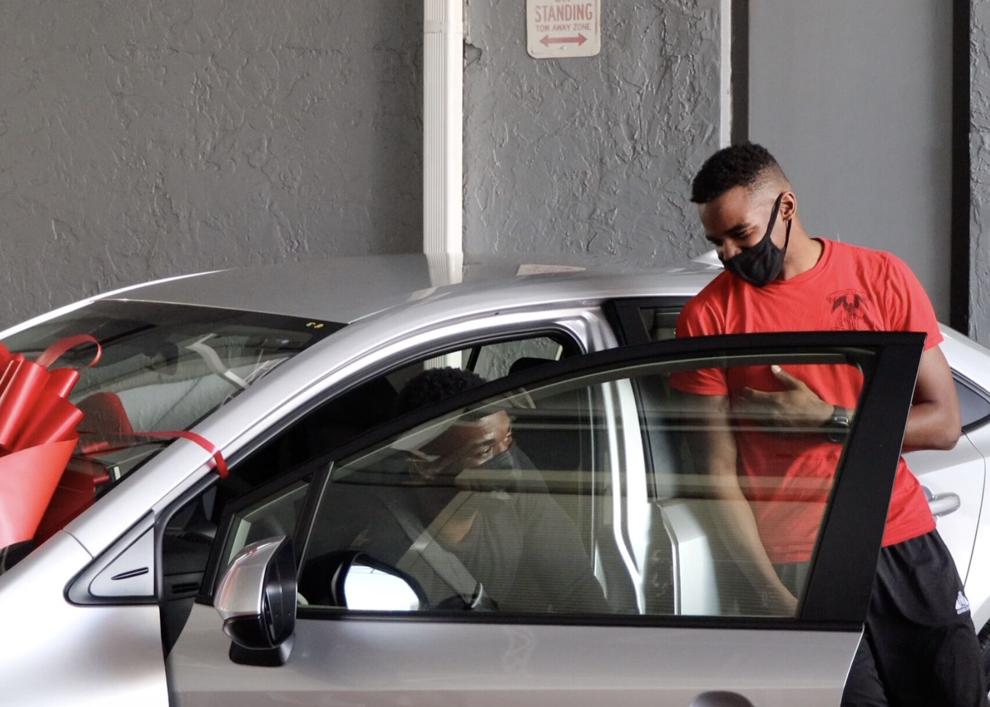 "I'm still kind of lightheaded from it," Thompson said about the moment.
Ndah happened to arrive in Miami that same day from North Carolina. He received a phone call advising him that his friend was going to be receiving a car.
The two instantly clicked when they met in 2015, when Ndah joined Thompson as a volunteer at FOCAL Moore Park Learning Center, where Thompson remains a counselor aide. They had the same interests in sports, joking around and having fun.
"After that, we just kind of became family," Thompson said, who described what transportation looked like to him before receiving a car: "A lot of walking and running."
"I don't know if you've ever walked through this neighborhood, but there's a lot of dogs that like to get out of the gates, so that's why I had to run a lot. But I ran track for most of my life, so it was kind of like me just keeping up the same pace," he added.
"Before I even left the Army, I had a vehicle, so whenever he needed a ride, I'd always try to be there for him 'cause honestly, he really is like my big brother," said Ndah.
All six recipients will pay a monthly fee for the new vehicle with insurance and maintenance included and, after three years, the car is theirs. The program not only helps with a dependable way to get to destinations, it provides an opportunity to build credit history.
Recipients, all of whom are assigned a personal coach, must provide sweat equity to a community project and attend interactive meetings on car maintenance and financial management.
"Every time we do this, every single time, I cry because I know how we're impacting their lives," said King. "I know about their transportation hardships and I know how important it is to have reliable transportation."
King said that when her mother came to this country, she did not know anyone or how to drive. She did end up getting a vehicle for herself, but King is constantly reminded of how a program like Wheels to Work would have made such a difference for her.
"This program is for my mother," said King, " and every time I do it, I think about how it would have meant so much to her."