Tuesday night, Florida Memorial University and at least 7 other Historically Black Colleges and Universities (HBCU) were the target of bomb threats. Other schools impacted by the threats: Howard University, the University of Arkansas at Pine Bluff, Norfolk State University, North Carolina Central University, Prairie View A&M University in Texas, Spelman College and Xavier University of Louisiana.
According to a release from Florida Memorial University, they were alerted to threat by Miami Gardens Police Department. The campus was placed on lockdown and Miami Gardens Police, Miami-Dade Police Bomb K-9 Unit and campus security searched the campus for any suspicious packages. After a thorough search, no suspicious packages were found, and no one was harmed. The campus returned to normal operations.
In a statement, "Florida Memorial University takes matters of this nature seriously. The safety of our students, faculty, staff, and visitors is the university's main priority. Campus security will continue to work with all involved agencies as the investigation remains ongoing."
Similar information came out from other schools impacted.
Howard University in a tweet, "All clear. Howard's Department of Public Safety (DPS) and MPD responded to a potential bomb threat on campus this afternoon. The perimeter was secured and searched. No active devices were found and the area has been cleared."
The University of Arkansas at Pine Bluff said in a statement on Tuesday evening, "While the full student body has not yet returned for the semester, students who are on campus have been relocated off-campus for the evening. Although the threat was unfounded we ask that everyone remains vigilant"
The threat against Xavier University has been called by the New Orleans Police Department as "very real." The FBI and Homeland Security are said to be investigating this threat.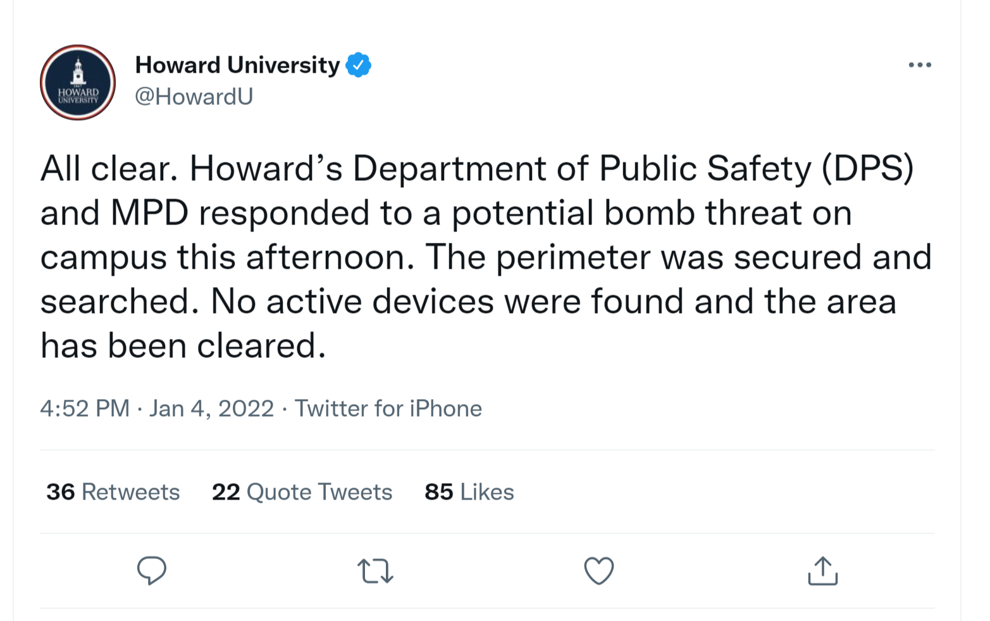 Spelman College tweeted Wednesday that the campus Department of Public Safety and the Atlanta Police Department responded to a bomb threat to one of its buildings, the Manley College Center.
"After a thorough search, no devices were found and the building was secured," the tweet read.
Officials at the Federal Bureau of Investigation say they are aware of the incidents.
"The FBI is aware of bomb threats received by some Historically Black Colleges and Universities," said a statement from the FBI. "The FBI takes all potential threats seriously and we regularly work with our law enforcement partners to determine their credibility. As always, we would like to remind members of the public that if they observe anything suspicious to report it to law enforcement immediately."