It's been a long road since the 1981 Time magazine cover story about Miami titled "Paradise Lost?" Along the way, some have felt paradise was found and lost again, but the truth is, it's in the bloody gutter. It has been for a long time – one dead Black body at a time. 
The difference now is that gun violence is hitting every corner of the county, from the western Miami-Dade/Broward County line to our inner-city neighborhoods in the east, to South Beach, Kendall and Homestead. All of these areas were struck in less than a week and we made national news for all the wrong reasons – again.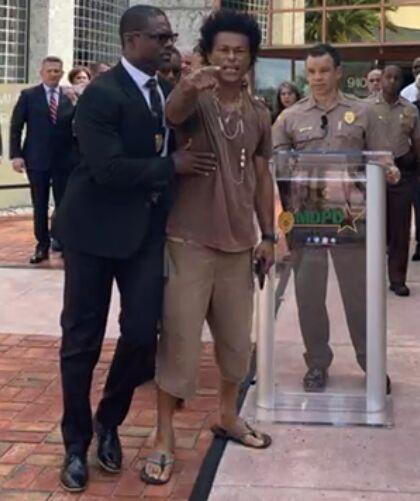 2020 saw a 13% increase in homicides from the year prior and a 45% increase from 2016. The trend is evidently rising with the thermostat.
The Miami-Dade Police Department recently launched "Operation Summer Heat" to step up enforcement in collaboration with all municipal law enforcement partners, but obviously that's not enough.
On Tuesday, June 8, county commissioners had an opportunity to take a decisive step toward stopping the bleeding and they took it. The tourniquet is Mayor Daniella Levine Cava's "Peace and Prosperity Plan," developed over a two month period and delivered on time on June 2 to the Miami-Dade Board of County Commissioners, as requested. Commissioners approved the plan unanimously in an unusual sign of unity for the common good. 
The $7.2 million price tag over two years is a small price to pay to invest in our youth, community and safety. The truth is, it's only a down payment on an investment that must be made to achieve long-term results that stick. For too long, Miami-Dade County Public Schools and The Children's Trust have carried the load with the "Together for Children" initiative launched by M-DCPS Superintendent Alberto Carvalho, among other previous efforts. The county is a major stakeholder, but it never came to the table with enough funding of its own. 
Miami-Dade County government has finally stepped up. We didn't get here overnight and it's going to be a long, hard slog to climb out of the quicksand we're in. In fact, Levine Cava is calling this strategic prevention, intervention and enforcement approach "a historic opportunity to deploy $90 million in funding over 19 years to tackle the gun violence crisis." The evidence-based plan includes best practices to address the underlying causes of gun violence and poverty. Successful national models are included and new opportunities identified. Local and national experts in criminology and social work were consulted and data drove decisions. 
We applaud the plan for including the cost of an independent evaluator who will measure results of Year 1 programs with the following indicators: (1) reduction in homicides, (2) reduction in contact shooting and (3) r6ecidivism rates among program's participants. This will make efforts accountable and ensure that dollars are well spent. 
The mayor's history in social services will be invaluable moving forward and her fingerprints are clearly evident. For those who think "soft" social services without law enforcement won't work, rest assured that smart policing is prioritized in the plan. Just a few highlights among many include:
Code Enforcement and Fire Marshal crackdowns of unlawful parties in unauthorized venues that attract large crowds
A 24-hour hotline for residents to report illegal businesses at residential and commercial properties
Proactive collaboration between law enforcement agencies
Hotspot checks
DUI enforcement checkpoints
Deployment of additional license plate readers (LPRs)
Real-time crime center operations
Expanded community policing operations
If only gun control could have been part of the plan, but alas, we are stymied by a governor and state legislators beholden to the NRA. That's a discussion for election season when our voice is our vote. 
Emily Cardenas is the executive editor of The Miami Times. She previously worked as a producer at WTXF in Philadelphia and at WSCV, WFOR and WPLG in Miami.
(updated from the original post on June 7, 2021)