Just like George W. Bush in 2003, Florida Gov. Ron DeSantis is being a fool.
From aboard the aircraft carrier USS Abraham Lincoln, standing directly under a "Mission Accomplished" banner, then President George W. Bush declared, "In the battle of Iraq, the United States and our allies have prevailed." Of course, the war in Iraq was far from over and continued for several years thereafter.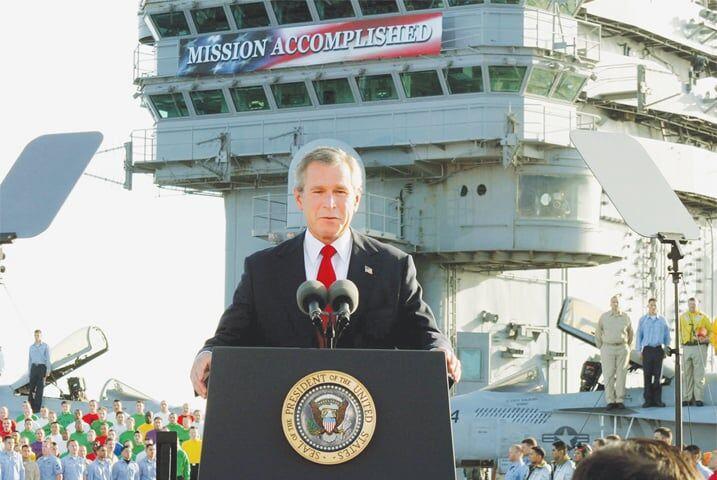 In similar fashion, DeSantis declared Florida's COVID-19 emergency over on Monday, signing an executive order that will take effect July 1, invalidating all remaining local emergency COVID orders and signing into law a bill that bars businesses, schools and government entities across Florida from asking anyone to provide proof of a COVID-19 vaccination. He did it in a crowd of unmasked white men at a St. Petersburg, Fla., restaurant under a grass tiki roof. Bottoms up.
Meanwhile, the coronavirus rages on, and nowhere near enough people have been vaccinated. On Sunday, Florida registered 3,841 new COVID-19 cases, 31 deaths and 6.3 million fully vaccinated people, about 30% of the population. Florida ranks 38th in vaccine rates in the nation.
Yet, in reference to ditching the emergency order, the governor said "I think it's the evidence-based thing to do.''
I have no idea what world he's living in. Thankfully, private businesses can continue to require people to wear masks and enforce social distancing and other protective measures, but governments cannot mandate it, under the law. So don't be surprised if many business owners, who are infinitely smarter than our governor, continue to require mask wearing indoors to prevent the spread of COVID in their establishments.
Those of us with a brain should continue to wear masks indoors around people we don't know whether or not we have been vaccinated.
Under the new law, businesses, schools and governments may not require proof of vaccinations. If they do, they can be fined up to $5,000 per incident. They may, however, institute screening protocols if it is "consistent with authoritative or controlling government-issued guidance to protect public health."
Local government officials immediately expressed their frustration.
"We are still in an emergency," said Miami-Dade County Mayor Daniella Levine Cava. "We have fewer than half of our people vaccinated. We have new variants threatening us."
Miami Beach Mayor Dan Gelber said he expects the order to suspend the city's ability to shut down businesses when customers or employees don't wear masks – just as popular Beach night spots like LIV and Mango's Tropical Cafe have begun welcoming back crowds.
Broward County Mayor Steve Geller has also criticized the decision.
I predict this will backfire on the governor, driving many of us, who have just begun to venture out, to run back into our houses and under the bed. Pony up to a bar in a crowd of mask-less faces? No, thank you.
And if more people don't get vaccinated in Florida, the scenes we're seeing in India could soon be our own.
The new law comes just days after the CDC told the cruise ship industry it can speed up the timeline for cruises to restart – but only if ships can show most passengers and crew are vaccinated against COVID-19.
There is already talk of legal challenges to the DeSantis order. Now that's one party I'd like to see get started.
What perfect timing for Charlie Crist to announce his run for governor, becoming the first major Democratic party candidate to challenge DeSantis in 2022.
Emily Cardenas is the executive editor of The Miami Times. She previously worked as a producer at WTXF in Philadelphia and at WSCV, WFOR and WPLG in Miami.