The time has come to prepare for the 2023 NFL season, and the Miami Dolphins arguably have the hottest ticket in town with an explosive offense and talented defense.
The team's promo video is staged at a movie theater featuring its weekly matchups on classic movie posters converted into satire, such "Men in Aqua" as a play on "Men in Black."
The 2023 schedule, available on the web version of this story at MiamiTimesOnline.com, is one of the toughest in the NFL, featuring games against the league's best. Overall, the Dolphins will play eight games against seven different playoff teams from the 2022 season, including Super Bowl champions Kansas City Chiefs and NFC champions Philadelphia Eagles.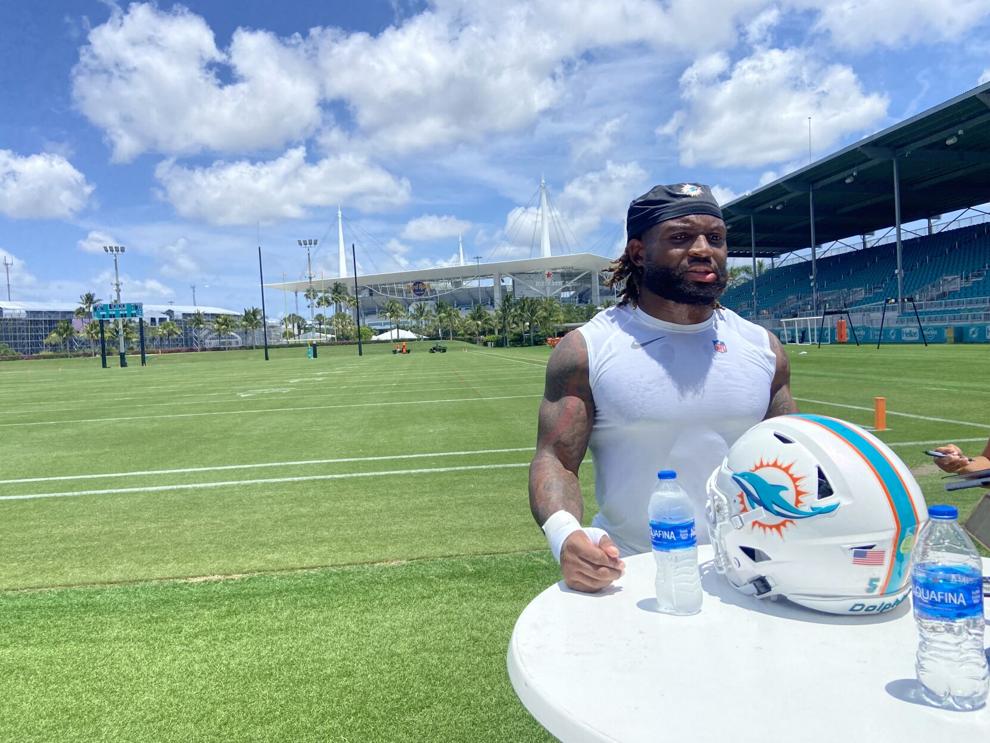 In addition to that game against Kansas City to be played in Germany, two others that stand out are a matchup against the New York Jets in the first-ever Black Friday game and a 4:25 p.m. kickoff on Christmas Eve against the Dallas Cowboys at Hard Rock Stadium.
Also, for the first time in six years, the Dolphins will host a "Monday Night Football" game at home against the Tennessee Titans Dec. 11.
The home opener against the Denver Broncos is set for is Sunday, Sept. 24, at 1 p.m. The Dolphins will host divisional opponents New England Oct. 29 and the New York Jets Dec. 17 before concluding the season against Buffalo in Week 18 at Hard Rock Stadium.
Miami will make two appearances on NBC's "Sunday Night Football," the first in Week 2 against the New England Patriots Sept.17.
Dolphins rookie minicamp
New Dolphins draftees and undrafted free agents showcased their talent this past week. One player hoping to make it onto the final roster is former Jackson State University Linebacker Aubrey Miller Jr.
Miller already has experience playing at Hard Rock Stadium in two consecutive Orange Blossom Classic games, where he was a standout player on both occasions.
"It's a blessing for me to be able to get acclimated to Miami, having played here twice, and now I'm back here again to be able to play for the team, and being able to try to help the team win feels good," he said.
"Jackson State taught me how to be a pro. I just must make sure that my character is high and make sure that I am learning from my coaches and building up on my relationships," Miller added.
Miller, who stood out from other linebackers at rookie minicamp, is playing with a chip on his shoulder after going undrafted and is taking full advantage of the opportunity before him.
Isaiah Bolden, a cornerback from Jackson State who was chosen by the New England Patriots as the 245th overall draft pick in the seventh round, was the only HBCU player selected in the NFL Draft this year.
Several high-level HBCU players including Miller and Florida A&M defensive end Isaiah Land expected their names to be called as well, but that was not the case. Now Miller is ready to take direction from defensive coordinator Vic Fangio, perhaps one of the best defensive minds in the NFL, while looking to make an impact.
Miami Dolphins 2023 schedule
 PRESEASON
Week 1: Dolphins vs. Atlanta Falcons; Aug. 11 at 7 p.m., CBS Miami
Week 2: Dolphins at Houston Texans; Aug. 19 at 8 p.m., CBS Miami
Week 3: Dolphins at Jacksonville Jaguars; Aug. 26 at 7 p.m., CBS Miami
REGULAR SEASON
Week 1: Dolphins at Los Angeles Chargers; Sept. 10 at 4:25 p.m., CBS
Week 2: Dolphins at New England Patriots; Sept. 17 at 8:20 p.m., NBC
Week 3: Dolphins vs. Denver Broncos; Sept. 24 at 1 p.m., CBS
Week 4: Dolphins at Buffalo Bills; Oct. 1 at 1 p.m., CBS
Week 5: Dolphins vs. New York Giants; Oct. 8 at 1 p.m., FOX
Week 6: Dolphins vs. Carolina Panthers; Oct. 15 at 1 p.m., CBS
Week 7: Dolphins at Philadelphia Eagles; Oct. 22 at 8:20 p.m., NBC
Week 8: Dolphins vs. New England Patriots; Oct. 29 at 1 p.m., CBS
Week 9: Dolphins at Kansas City Chiefs (Germany); Nov. 5 at 9:30 a.m., NFL Network
Week 10: Bye Week
Week 11: Dolphins vs. Las Vegas Raiders; Nov. 19 at 1 p.m., CBS
Week 12: Dolphins at New York Jets; Nov. 24 at 3 p.m., Amazon Prime Video
Week 13: Dolphins at Washington Commanders; Dec. 3 at 1 p.m., FOX
Week 14: Dolphins vs. Tennessee Titans; Dec. 11 at 8:15 p.m., ESPN
Week 15: Dolphins vs. New York Jets; Dec. 17 at 1 p.m., CBS
Week 16: Dolphins vs. Dallas Cowboys; Dec. 24 at 4:25 p.m., FOX
Week 17: Dolphins at Baltimore Ravens; Dec. 31 at 1 p.m., CBS
Week 18: Dolphins vs. Buffalo Bills; Jan. 6 or 7, 2024, date/time TBD, network TBD