South Florida football was on full display this past week on all levels. As the temperature drops, the second half of the season is heating up in preparation for playoff and championship games. From Traz Powell to the Hard Rock stadiums, some incredible football was played this past weekend.
Miami Dolphins
The Miami Dolphins (3-7) shocked the world on prime-time television Thursday night in front of a sold-out crowd at Hard Rock Stadium. The team defeated the Baltimore Ravens (6-3) by a score of 22-10. The Dolphins defense limited the Ravens offense as they kept South Florida locals Lamar Jackson and Devonta Freeman to under 40 yards rushing a piece.
Dolphins quarterback Tua Tagovailoa returned under center in the second half of the game to help lead the team to victory. Barring any unforeseen setbacks, he's expected to be the starter moving forward. The team now gears up to face the New York Jets (2-7) Nov. 21 in New York as it looks to continue their hot November start. Kickoff is set for 1 p.m. and the game will be televised on CBS.
Miami Hurricanes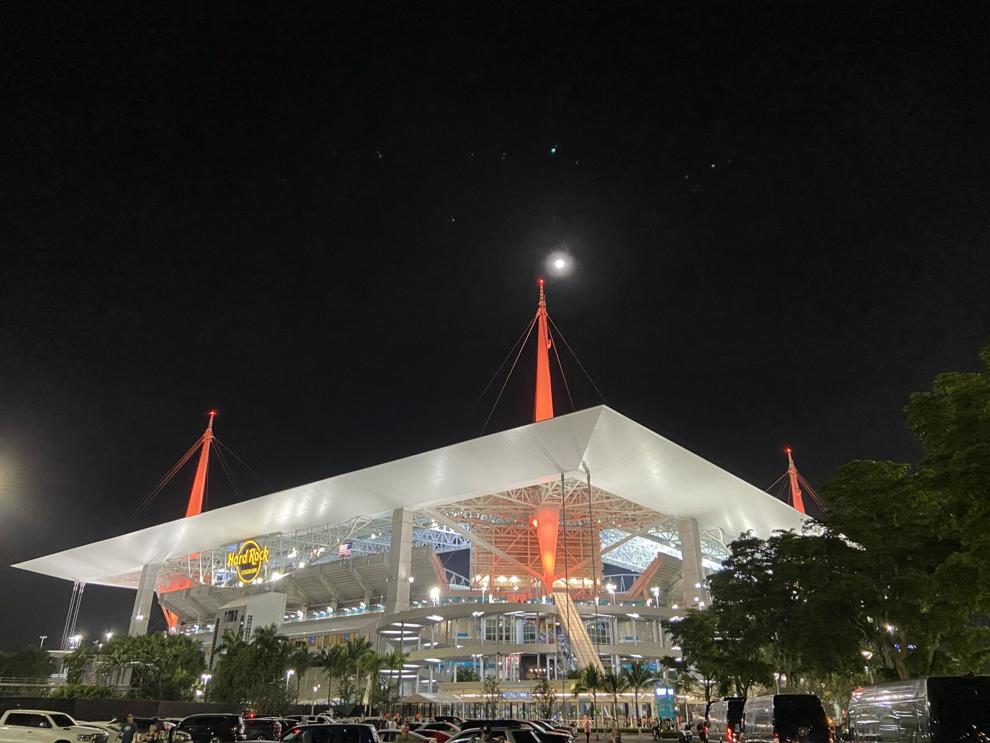 With a chance to salvage their season, the Miami Hurricanes (5-5, 3-3 ACC) lost to rival Florida State Seminoles (4-6, 3-4 ACC) by a score of 31-28. Nonetheless, the Hurricanes just need to win one more game in order to become bowl eligible. They'll face their next opponent at the final home game of the season, when the team faces off against the Virginia Tech Hokies (5-5, 3-3 ACC) Nov. 20. It will also be senior day for the Hurricanes – four seniors on the team will be honored. Among them is senior offensive lineman Navaughn Donaldson, who played football at Miami Central Senior High School. Kickoff is at 7:30 p.m. at Hard Rock Stadium in Miami Gardens.
Florida Blue Florida Classic
The Florida A&M Rattlers (8-2, 6-1 SWAC) and the Bethune-Cookman Wildcats (2-8, 2-5 SWAC) head off to Orlando, Fla., to face off in the 76th annual Florida Classic. The Rattlers lead the overall series 50-24-1; the Wildcats are currently on a nine-game win streak against the Rattlers dating back to 2011. The game returns after a one-year hiatus due to the pandemic. The Rattlers look to end their season with a chance to make the FCS playoffs, as the team will not be able to play in the SWAC championship or the Celebration Bowl due to a loss against Jackson State in September's Orange Blossom Classic. The Wildcats are looking to end their dismal season on a positive note and to claim another year of bragging rights. The game will be played Nov. 20 at Camping World Stadium; kickoff is set for 3:30 p.m.
High school football
The stakes are getting higher as the Florida High School Sports Athletic Association State Football Championship Playoffs move forward. After impressive first round victories, eight schools from Miami-Dade move forward in the regional semifinals:
·     Class 2A #2 Champagnat Catholic Lions (Hialeah; 7-2) vs. #3 Glades Day Gators (9-1) Nov. 19 at Champagnat Catholic; kickoff is 7:30 p.m. The Lions kicks off their playoff run after having a first-round playoff bye.
·     Class 3A #1 Chaminade-Madonna Lions (Hollywood; 7-1) vs. #4 Miami Edison Red Raiders (7-4) Nov. 19 at Chaminade-Madonna; kickoff is 7p.m. The Raiders head up to face the Lions after a 51-0 blowout against Somerset Academy in the regional quarterfinals.
·     Class 4A #1 Gulliver Prep Raiders (7-1) vs. #4 Miami Booker T. Washington Tornadoes (5-6) Nov. 19 at Tropical Park; kickoff is 7:30 p.m. The Tornadoes look to upset the Raiders after an impressive 30-6 victory against Calvary Christian Academy in the regional quarterfinals.
·     Class 5A #1 Killian Cougars (11-0) vs. #5 Stranahan Mighty Dragons (7-4) Nov. 18 at Harris Field; kickoff is 7:30 p.m. The Cougars look to continue their undefeated season after a 60-0 shutout of Cypress Lake in the regional quarterfinals.
·     Class 5A #2 American Heritage (Plantation, 6-3) vs. #3 Miami Central Rockets (8-2) at American Heritage Nov. 19; kickoff is 7:30 p.m. The Rockets head into the highly anticipated matchup against the Patriots after a 49-6 rout against North Miami Beach in the regional quarterfinals.
·     Class 6A #2 Naples Golden Eagles (10-0) vs. #3 Miami Northwestern Bulls (8-3) Nov. 19 at Staver Field in Naples, Fla.; kickoff is 7:30 p.m. The Bulls look to end the Eagles' season after a blowout 71-19 victory against Fort Myers in the regional quarterfinals.
·     Class 8A #1 Western Wildcats (Davie, 9-2) vs. #5 Miami Columbus Explorers (7-3) Nov. 19 at Western High School Stadium; kickoff is 7:30 p.m. The Explorers enter the regional semifinals after a 54-0 shutout against Dr. Michael M. Krop Senior High School.
·     Class 8A #2 Miami Palmetto Panthers (8-2) vs. #3 Deerfield Beach Bucks (9-2) Nov. 18 at Tropical Park; kickoff is 7 p.m. The Panthers look to extend their season at home against the Bucks after a 56-21 victory against Coral Gables in the regional quarterfinals.