Week 1 of training camp for the Miami Dolphins – which is being held at the Baptist Health Training Complex in Miami Gardens, Fla. – ended with an open session for fans for the very first time.
Wide receiver Tyreek Hill, recently acquired by the team in a trade this past offseason, enthusiastically greeted fans and hyped up the crowd with a backflip.
"Everyone, I know y'all feel the same way I'm feeling right now," he said. "Can I get a 'Oh yea?'"
Fans responded in kind before Hill continued.
"It's going to be fun," he promised. "It's going to be electric plays made on both sides of the ball, and make sure you bring your energy because we need y'all."
Electric indeed. The energy at the Back Together Saturday training camp session was through the roof, with members of the undefeated 1972 Dolphins team present and optimism for a new championship season running high.
During a news conference prior to the start of practice, Dolphins head coach Mike McDaniel spoke about this year's high expectations and the added pressure that comes with it.
"We look it right in the face because it's something to welcome," said McDaniel. "Pressure is one thing, but what about the dividends, you know? What about the dividends of going after something and trying to reach for it? So, we don't really shy away from it. I try not to shy away from that pressure."
Added safety measure
For the first time, many players from all 32 NFL teams are wearing a padded shell affixed to the outside of their helmets, called a guardian cap.
During all 2022 preseason practices up until the second preseason game, all offensive linemen, defensive linemen, tight ends and linebackers are required to wear the guardian cap, providing additional impact protection during the period when the league sees the greatest concentration of helmet impacts.
When worn, the cap results in at least a 10% reduction in severity of impact if one player is wearing it, and at least a 20% reduction in impact if both colliding players are wearing them.
Coming home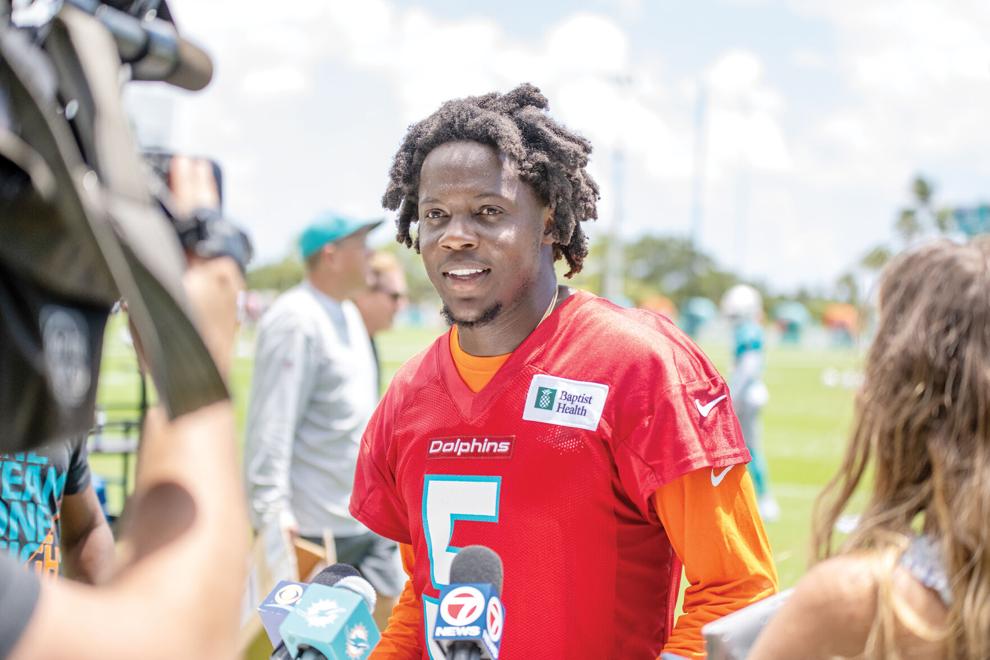 What's unique about this year's Dolphin team is that there are several players who grew up in South Florida, began their NFL careers elsewhere and are now back to play with their hometown team.
Sony Michel and Teddy Bridgewater were able to share their experience on being away and having the opportunity to return. Michel, now a two-time Super Bowl champion, attended high school a short distance away at St. Thomas Aquinas.
"It feels good. Being back home, getting to focus on what's important," Michel said. "You have your right support system already in place and you can kind of just focus on ball."
Bridgewater typically had to leave town the day after hosting his annual Christmas in July event in Liberty City, but not this year.
"Knowing that I just get to drive right down the street and come to work feels surreal," he said.
Bridgewater continues to be active with the Bunche Park Optimist program and his high school alma mater, Miami Northwestern Senior High School.
"You can definitely look for me on Friday nights at Northwestern games and Saturdays at Bunche Park," he said. "I'm grateful that I've been given this opportunity because there might be another Teddy Bridgewater playing down the street at Bunche Park, Gwen Cherry or somewhere. So, I'm happy that I got this opportunity to pave a way."
Community presence
Training camp guests representing local youth football leagues and nonprofit organizations got the VIP treatment in the "Community Corner."
"Being this close to the field and receiving this treatment has been awesome," said Ijamyn Gray, CEO of Overtown-based Encouraging Dreamers Breaking Barriers. The program provides mentoring and teaches financial literacy and money management.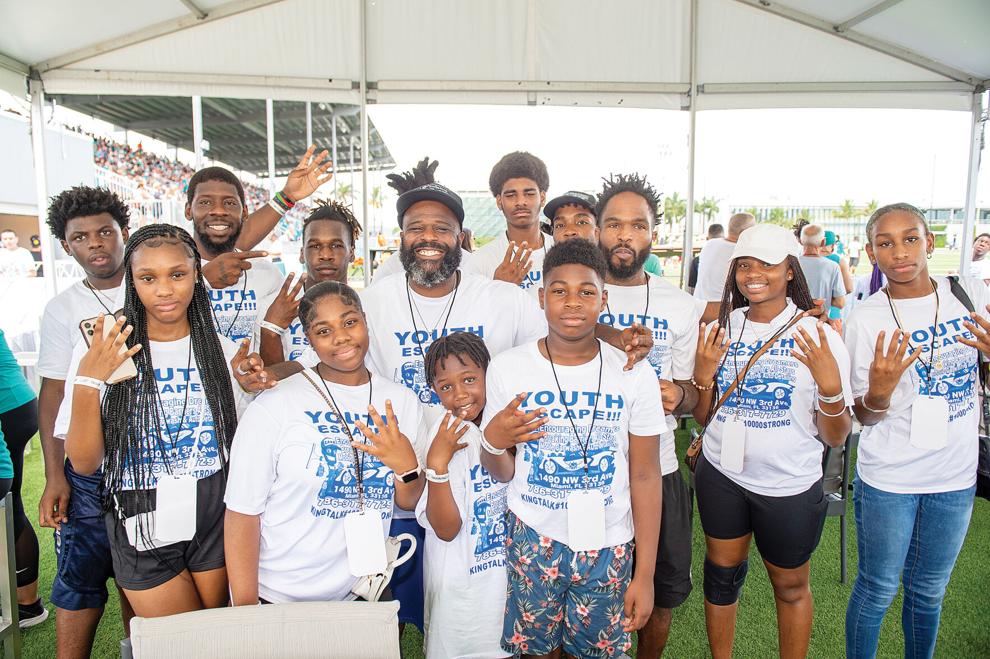 Some of the 22 Encouraging Dreamers Breaking Barriers participants that were present at training camp shared their experience.
"The energy here is great and we were able to visit the team locker room. Having the support of the Miami Dolphins makes me feel like I'm a part of the team," said Robert Whittle.
"Not only did they meet the players and coaches on the field, but they were able to meet people in operations and the communications department, so they can see that they can have a career in sports without having to play that sport," said Jason Jenkins, senior vice president of communications and community affairs for the Dolphins.
50th anniversary celebration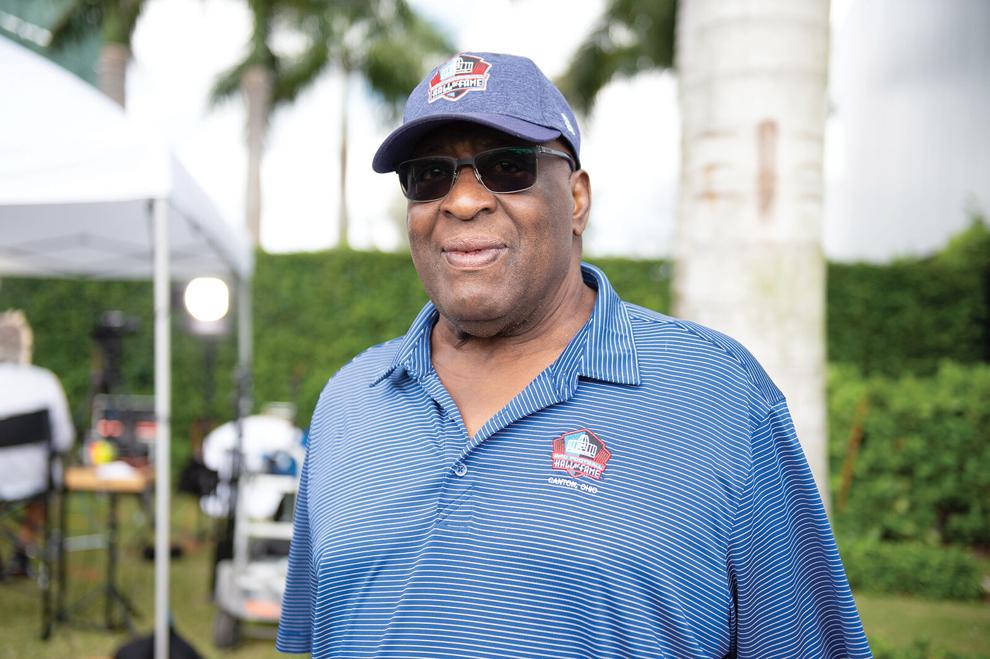 The Dolphins also announced a series of events as part of the team's 50th anniversary celebration marking its perfect season in 1972.
Launched July 30 at the team's alumni BBQ, the yearlong celebration will feature a series of events honoring those championship team members, their families and fans. The initial slate of events will include alumni captains who will be recognized at every home game by position group; a "Perfect Season" podcast; an exhibition at Hard Rock Stadium displaying artifacts from the 1972 season; a "Sunday Night Football Celebration" Oct. 23; and a Dolphins fan cruise.
The team now has its sights on its first preseason opponent – the Tampa Bay Buccaneers. That game will be played in Tampa Aug. 13 at 7:30 p.m.