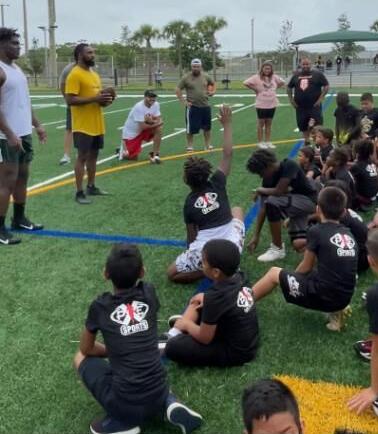 Luther "Uncle Luke" Campbell, co-founder of the Liberty City Warriors Optimist Club, recently hosted his first youth football camp at Charles Hadley Park. Three hundred kids participated as several current and former professional NFL players led them in workouts across the park's newly renovated football field.
"We have all the NFL players and big-time superstars here with the kids today, all here in Liberty City," said Campbell. "The message I want to leave with the kids is for them to stay in school and they can end up being pros at anything."
The athletes who helped turn the camp into a fantasy football-like event included Anquan Boldin, Super Bowl XLVII champion and the 2015 Walter Payton Man of the Year; Joshua Palmer, wide receiver for the Los Angeles Chargers; Mason Schreck, tight end for the Cincinnati Bengals; Emmanuel Moseley, cornerback for the San Francisco 49ers; Carl Lawson, defensive end for the New York Jets; Jacques Patrick, running back for the Bengals; Cameron Jordan, All-Pro defensive end for the New Orleans Saints; M.J. Stewart, cornerback for the Cleveland Browns; and Jordan Dangerfield, who is currently an NFL free agent.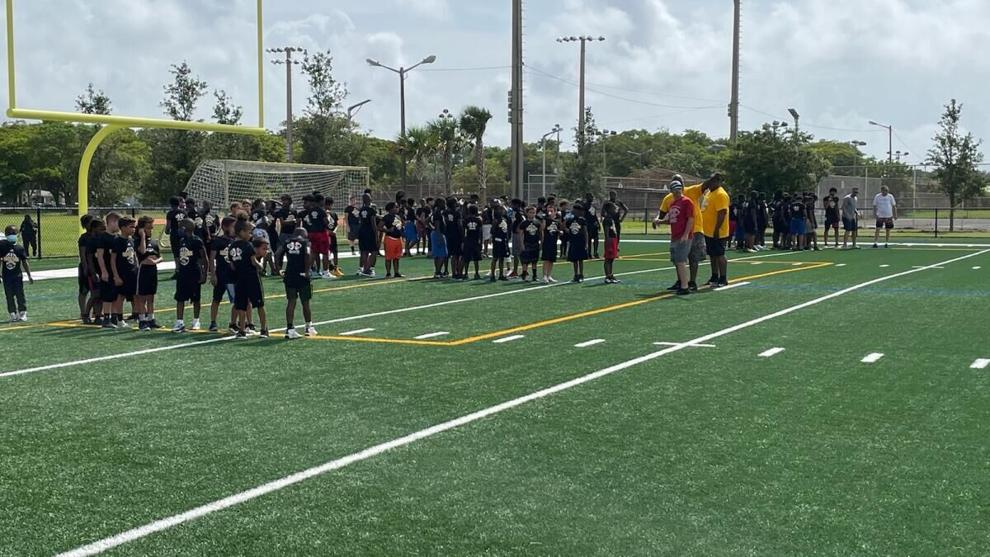 Youth participated in several NFL pro drills and learned lessons both on and off the field from the visiting pro players.
When students wanted to know if any of the players knew Odell Beckham Jr., they were shocked when Stewart answered, "He's my teammate."
Numerous current and former NFL players were mentored by Campbell as children when they attended programs at the Liberty City Warriors Optimist Club, including Cary Williams, Devonta Freeman, Lavonte David, Chatarius "Tutu" Atwell and Duke Johnson, just to name a few. The organization has been offering after-school and weekend programs for years.
"This is the community where I came from, and this is the park I grew up on. This is the same pool I jumped in as a kid. I even had my summer camp here as a kid growing up on 58th street and 11th Avenue," Campbell said.
When asked why he chose to become an advocate for youth, Campbell said, "Kids are at a stage where they want to learn from people, and you can instill good things in these young men and young ladies and at an early age. When you are dealing with adults, they already have their own mindset."
A partnership with Tony Villani of XPE Sports made the NFL talent involvement in the camp possible.
"The average NFL career is three years," said Viillani. "For every player to play six years, there is a player to play one year. It is hard to stay in the NFL. The NFL is a dream and a goal that starts that with schoolwork and college."
XPE Sports has a record of success in preparing the nation's top collegiate and professional athletes to achieve and exceed their athletic performance goals. This includes ensuring that aspiring collegiate football players successfully prepare for the NFL Combine and work with current NFL players to take their performance to the next level.