The NFL instituted the "Rooney Rule" in 2003 as a means to advance coaching, sideline and front office opportunities for minorities, but the league's diversity rating continues to fall short.
A new seven-point mobility plan is intended to change that. Troy Vincent, executive vice president of football operations for the NFL, told The Associated Press the league is aiming for a "complete reform."
"We had to examine all we do and have done, and obviously things had not been working," he said. "The resolution adopted is just a complement to what we have done in the expansion of the Rooney Rule through the years … Now let's see how we measure at the end."
Franchise owners unanimously approved the proposal, which will reward teams with compensatory draft picks for developing minority coaches and front office executives who go on to become head coaches and general managers for other organizations. There is a diversity crisis at top levels among NFL teams; owners have been unmotivated to hire head coaches and general managers who don't look like them in the past. Vincent said the resolution compliments "the overall collection of things we're doing to try to increase mobility among in particular Black coaches and females as well."
Nelson Mandela once said "May your choices reflect your hopes, not your fears." Good choices are decisions that keep you headed toward where you want to go. In light of the new resolution, let's review some of the choices made by the Miami Dolphins.
Black front office
The Miami Dolphins have already been making good decisions. In Stephen Ross, they have a team owner who has been forward thinking when it comes to the equity crisis – the Dolphins are the only team in the NFL with a Black head coach and general manager duo leading its franchise.
In total there are five NFL Teams with Black head coaches: the Dolphins (Brian Flores), Pittsburgh Steelers (Mike Tomlin), Los Angeles Chargers (Anthony Lynn), Atlanta Falcons (Raheem Morris, who's serving as interim head coach) and the Houston Texans (Romeo Crennel, who's also serving as an interim head coach). And there are two NFL teams with Black general managers: the Cleveland Browns (Andrew Berry) and the Dolphins (Chris Grier).
Time will tell what effect the new plan will have on the league as a whole.
Five in a row
The Miami Dolphins have been making the right choices on the field as well, and had the opportunity to showcase that on Sunday, Nov. 15. Wearing their throwback jerseys for the first time all year, several fans want the uniform change to be permanent. The team (6-3) defeated the Los Angeles Chargers (2-7) by a score of 29-21. The attendance for game was 12,751 fans.
The matchup featured rookie quarterbacks Tua Tagovailoa (the fifth overall pick in the 2020 NFL Draft) and Justin Herbert (the sixth overall pick in the 2020 NFL Draft) as they faced each other for the first time in their careers. The Dolphins had the choice between the two on draft day and made the right one. The Dolphins are 3-0 with Tagovailoa starting as quarterback, and they are now on a five-game win streak – and seeking to extend it to six – as they prepare to face the Denver Broncos in Denver, on Nov. 22.
The Dolphins' 6-3 record is their best nine-game record since 2001, and they have already exceeded their 2019 win total. This drastic turnaround under second-year coach Flores has Miami in contention for its first AFC East division title since 2008.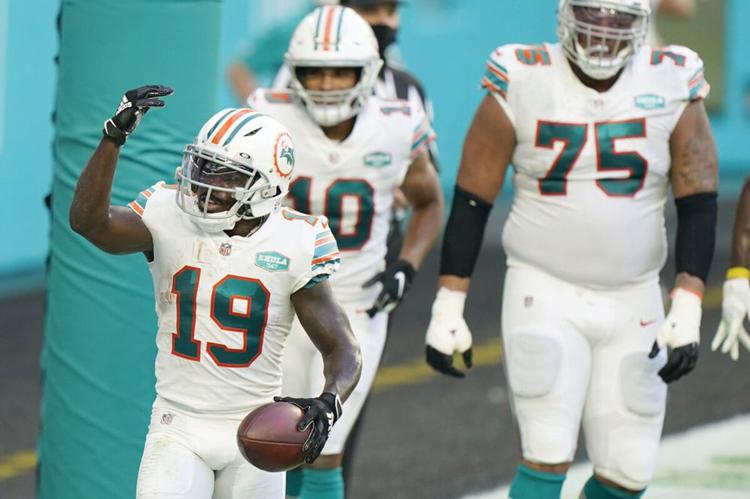 When asked on what he thinks about his team's effort thus far in the season Flores stated: "I think guys have worked together. I think we have a team full of guys who football is important to them, competing is important to them, communicating is important to them. And I think they bought into the – let's call it working together as a team and working hard and preparing and giving ourselves an opportunity to compete. We've seen some good results from that and they continue to buy into those things."
Tagovailoa became the first rookie in Dolphins history to win his first three starts. He's also the first quarterback in Dolphins history not to throw an interception in any of his first three starts. All five of Tagovailoa's touchdown passes have gone to five different receivers: DeVante Parker, Preston Williams, Mack Hollins, Jakeem Grant and Durham Smythe.
Salute to service
The month of November is NFL Salute to Service Month. The Salute to Service Award presented by USAA acknowledges the exceptional efforts by members of the NFL community to honor and support U.S. service members, veterans and their families. The 2020 nominee for the Miami Dolphins is wide receiver Malcolm Perry.
Before being selected by the Dolphins in the seventh round of the 2020 NFL draft, Perry attended the United States Naval Academy, dedicating five years of his life to serving this country after graduation. While in school and playing football, he made the decision to go the U.S. Marine Corps route to become an officer. While Perry was not commissioned by the Marines this past May because of a deferral to pursue professional sports, he will eventually serve at least five years as a USMC officer.
Perry's drive and discipline is what helped him succeed at both the academy and at football. He has connected with The Mission Continues, a veteran service organization that is a Football Unites partner of the Dolphins and connects veterans with under-resourced communities by deploying them as volunteers.
On Sunday against the Chargers, Perry had two catches for 21 yards and ran for 6 yards.