Many kids who grow up in South Florida dream of playing professional football for their hometown Miami Dolphins. A few – such as Lamar Miller, Vernon Carey, Teddy Bridgewater, Allen Hurns and Nat Moore – have done so.
Long before those players came on the scene was a future NFL Hall of Famer named Larry C. Little, member of the 1972 undefeated Dolphins and a two-time Super Bowl champion. Just as South Florida is synonymous with football, his name is synonymous with championship football.
Inducted into the Pro Football Hall of Fame in 1993 and the Black College Football Hall of Fame in 2013, he has now been honored with a Miami street that will bear his name.
Growing up in Overtown, Little was a product of Miami-Dade County's public schools, attending Paul Laurence Dunbar and Phillis Wheatley elementary schools before graduating from Booker T. Washington Junior/Senior High School in 1963.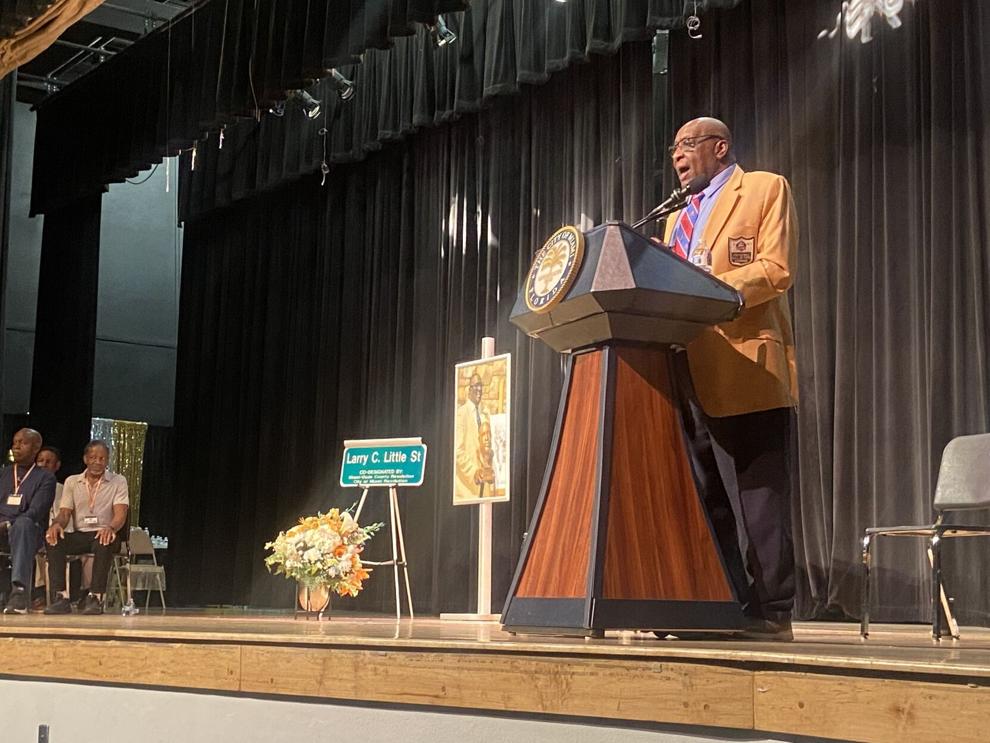 "When I was in the ninth grade, I took a chance and auditioned for the Booker T. Washington football team. I was only 13 at the time and didn't know how good or bad I was. But I loved the game," said Little.
Several elected officials, family members, friends and alumni from Booker T. Washington and Bethune-Cookman University, Little's alma mater, were on hand to pay tribute to the living legend at a street renaming ceremony in his honor. Members of the undefeated 1972 team were on hand as well, including Mercury Morris, and Ed Newman – now a Miami judge – drafted by the Dolphins in 1973 for what would be an 11-year run.
"It's only fitting that [Little] should be recognized in a way that lets you know that he was a pioneer of his community," said Morris.
The street that will bear Little's name is NW 11th Terrace from NW Sixth to NW First avenues, which is near Gibson Park (formerly known as Dixie Park) in Overtown, where Little first bgean dreaming of a career in football.
"I am honored to celebrate a giant in our community. Larry Little is the example of an exemplary man," said Miami Commissioner Christine King at the ceremony. "His accomplishments on the field and off are incomparable and inspire us to be the best versions of ourselves."
While at Bethune-Cookman, Little was a two-way tackle, team captain and three-time All-Southern Intercollegiate Athletic Conference selection. He was undrafted after college and had a short stint as a free agent with the San Diego Chargers before being traded to the Dolphins.
During the 1970s, he was an important part of the team's offensive line – he was named the NFL Players Association AFC Lineman of the Year three years in a row from 1970 to 1972, and was selected to play in five Pro Bowls.
After his playing career, Little served as head coach for then Bethune-Cookman College and also North Carolina Central University.
Several of his former players came to Miami for the ceremony, including Trei Oliver, who is now head coach at North Carolina Central.
"Aside from wins and losses, it's all about pouring into young men and making a difference. Coach Little over the years did so much and more for me and my teammates, and I just hope I can touch the lives and make the difference in half as many young men as he did during his coaching career," said Oliver.
Little, wearing his gold Hall of Fame blazer, was overjoyed by all of the accolades and kind words.
"This is a great day for me," he said.