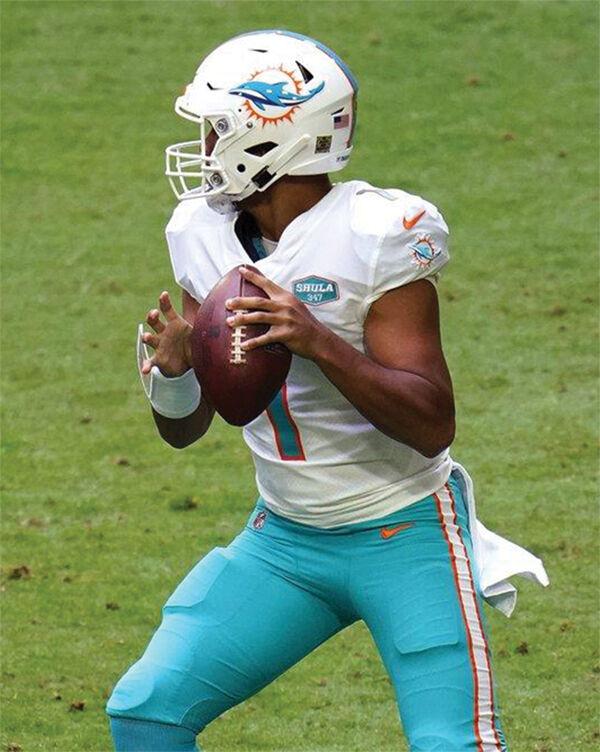 Before Sunday, you'd have to go back to 2018 for the last time Dolphins quarterback Tua Tagovailoa faced off against Cardinals quarterback Kyler Murray. At this past weekend's duel in the desert, the Miami Dolphins (5-3) defeated the Arizona Cardinals (5-3) by a score of 34-31. In the back and forth matchup, the Dolphins rookie quarterback challenged a familiar collegiate rival, Cardinals second-year quarterback Murray. This was their first head-to-head in the NFL, and their second overall since the Orange Bowl Game at Hard Rock Stadium where the Tagovailoa's Alabama Crimson Tide defeated Murray's Oklahoma Sooners by a score of 45-34.
Just like the Orange Bowl game, this game volleyed for the most part until the 4th quarter. Down by 7 to tie the game, weekend's constructed a 93-yard touchdown drive in 10 plays. He displayed his growth and poise on that drive and it is safe to say that he has grown up right before our eyes. Tagovailoa completed 20 out of 28 passes for 248 yards and two touchdowns, a 122.3 rating and seven rushes for 35 yards. Murray, who filled the stat books completing 21 out of 26 passes for 283 yards and three touchdowns while also rushing for 106 yards and one touchdown, was still outshined by Tagovailoa in the end. This is beginning to look like a rivalry built to last, as Tagovailoa finished runner-up to Murray for the Heisman back in 2018, but now has a record of 2-0 against Murray in head-to-head matchups.
After the game, Tagovailoa recognized his offensive coordinator Chan Gailey for being responsible for his improvement in his second career NFL start.
"I think Chan did a great job with getting me comfortable with getting the ball out quickly, looking down field and going through my progression reads as well," he said. "Kudos goes to everyone up front with the O-line, the blocking with the backs and all the receivers making plays."
The Dolphins defense also showed up as they scored a defensive touchdown to start the game off and did just enough to maintain Murray in the end, where it most mattered. The Dolphins have something special brewing in South Florida.
The Miami Dolphins now finish with a 3-1 record against the NFC West (Seattle Seahawks, Los Angeles Rams, San Francisco 49ers and Arizona Cardinals) this year. The NFC West is arguably the best division in football right now, as their division is one of only two in which all of its teams have appeared in a Super Bowl at least once since 2002.
Winners of now four straight games, the Dolphins look to extend their winning streak to five games as they face off against the Los Angeles Chargers (2-6) at Hard Rock Stadium on Nov. 15.