The Miami Dolphins is in one of the best positions in the NFL with a luxury that teams rarely get – being a near-playoff franchise with a top three draft selection and a disgruntled superstar looking to make Miami his new home.
Miami has its quarterback for the future; now it's time to add the weapons to get the offense producing.
"I want to be clear. Tua is our starter;" said general manager Chris Grier in a joint news conference with Dolphins head coach Brian Flores. For those not sold on Tagovailoa, there still may be a possibility of drafting another quarterback. There's even been murmurs about a potential trade for Houston Texans quarterback Deshaun Watson, due to Houston's insensitivity toward social injustice causes. Watson has a no trade clause in his contract but would lift it with Miami as his destination. Receivers and running backs are a priority for the Dolphins, but you can never go wrong with an offensive lineman to protect the franchise. With three of the first 36 selections in the NFL draft, Miami has options.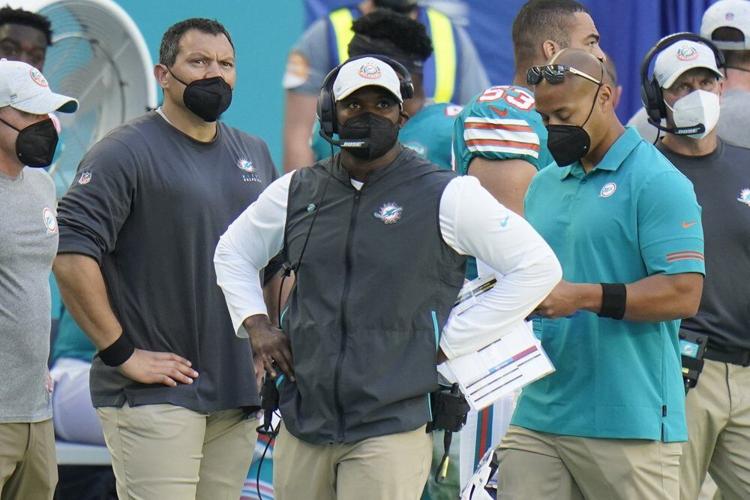 "People are more comfortable as they gain experience. It is like any relationship. It improves with time. That's the vision right now," said Flores.
Adding DeVonta Smith would be a dream come true for Miami; Having completed his last collegiate game at Hard Rock Stadium, it just makes sense. the Heisman-worthy receiver already has a history of playing with Tagovailoa in Alabama and experience at the Hard Rock for the biggest games (the 2018 Orange Bowl and the 2021 National Championship Game), so it just makes sense to add him as another piece in the puzzle.
The Dolphins are ahead of schedule with the rebuild of their franchise. Many people believed that losing as many games as possible would be the best thing for them to do last year. However, Flores led the team to five wins in its last nine games, ending the season with a 5-11 record.
Fast forward to this year, the Dolphins ended their season with a 10-6 record. Since 2008, the Fins have only won 10 or more games three times (2008: 11-5 record; 2016: 10-6 record; and 2020: 10-6 record). Now the team can select the best player available. They may consider utilizing that pick to beef up their receiving core by possibly bringing in talent such as Smith from Alabama, wide receiver Ja'Marr Chase from LSU, tight end Kyle Pitts from Florida or even Jaylen Waddle from Alabama.
Consider this: If the Dolphins draft either Smith or Waddle it would reunite them with Tagovailoa, and they would essentially pick up right where they left off in Alabama.
The decisions and opportunities are endless with the number three pick. The Dolphins can go offense, or they can go defense by selecting Patrick Surtain II, which would place him opposite of Pro-Bowler Xavien Howard, instantly improving their defensive secondary as well. Regardless of the player that they select, we may be witnessing the beginnings of a Dolphins team built by "'Bama." It is ironic that former Dolphins head coach Nick Saban didn't get this chance and is now back in college football sending the best players to the league.
The draft is months away and many of those positions could be filled in free agency or off-season trades. Now is the time and the turning point of the franchise. The future is bright, and the future is now. All the credit thus far goes to Flores, arguably a top candidate for NFL Coach of the Year in 2021. Although the Dolphins did not end the season as they would have preferred, the experience they gained should be the motivation they can use this off-season to carry them to the next level.