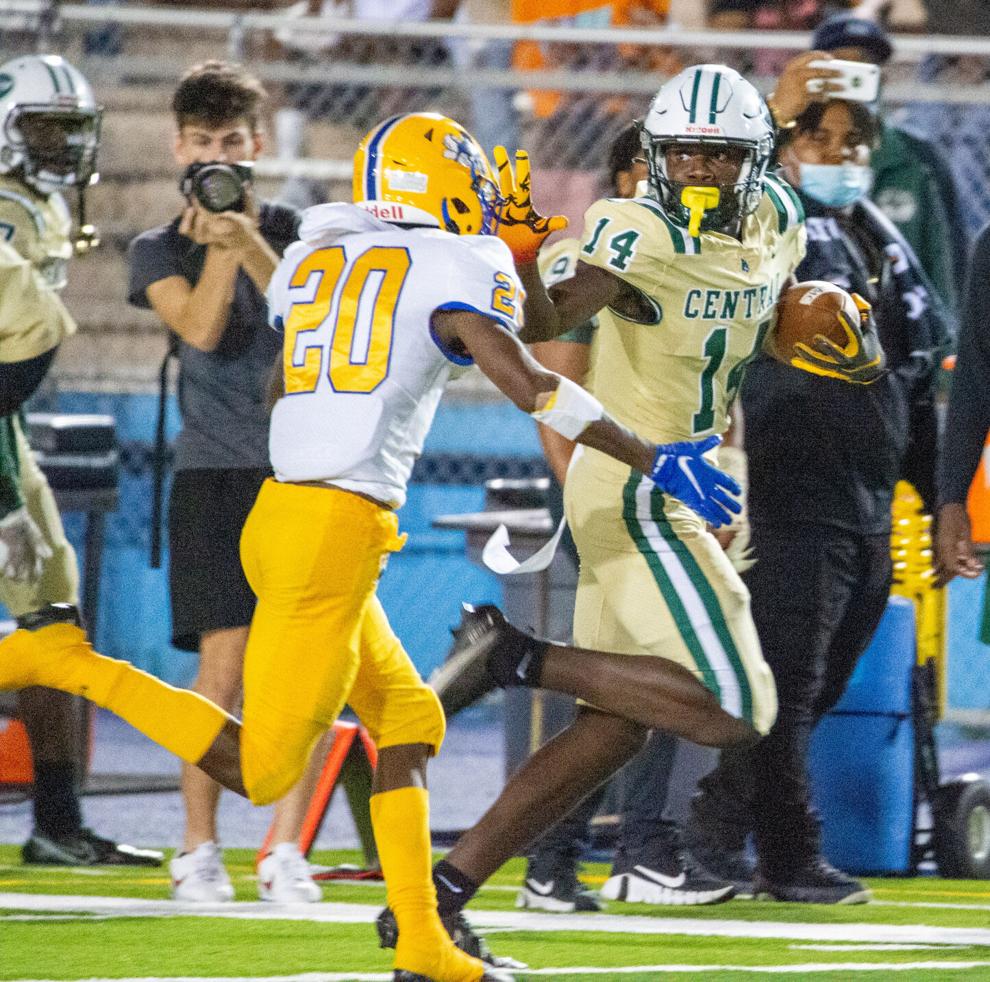 The hottest ticket to find in Miami this past week was not for the Miami Hurricanes or the Miami Dolphins game. It was a ticket to Traz Powell Stadium – aka "The Mecca" – to watch Miami Northwestern face off against the Miami Central Rockets. This game is also called the Commissioner's Cup because it features the premier high school football programs of Miami-Dade County – District 2 Rockets vs. District 3 Bulls. In attendance at the game was current Miami-Dade County District 3 Commissioner Keon Hardemon, who happens to also be a Miami Northwestern alum.
"In years past, there was no real prize to winning this game, other than having bragging rights and having possession of the trophy for one year. This year, I wanted to add to the fanfare and pledge that whoever wins this game, I will give the winning team's athletic program $5,000 during my tenure as commissioner," said Hardemon.
Miami Central head coach Roland Smith is also a Miami Northwestern alum, and was the head coach for the Bulls from 2001-2006 before taking on that role for the Rockets. Prior to kickoff, Smith had a simple but effective six-point recipe for victory: play intelligently, eliminate mistakes, execute, second effort, discipline and respect.
This highly anticipated game was all that and more.
From 95th to 71st streets, all those near and far made their way to The Mecca to see what would be written in the next chapter of this rivalry. Miami Central started the scoring off early by jumping to a 7-0 lead in the first quarter after a direct snap touchdown by running back Ghana Oboh (Class of 2022). The Bulls answered back in the second quarter when Miami Northwestern quarterback Taron Dickens (Class of 2023) connected with wide receiver Adrian Harris III (Class of 2022) for a touchdown to tie things up at 7-7 going into halftime.
There was a pause in action in the third quarter due to commotion in the stands. When gameplay resumed, Miami Central began to take control in the third quarter after a 40-yard touchdown scramble by quarterback Dylan Tulloch (Class of 2023). That score was then followed up by another touchdown by the Rockets on an impressive 55-yard catch and run touchdown by wide receiver Lamar Seymore, which gave the team a 21-7 lead heading into the fourth quarter. Seymore is currently a Class of 2023 verbal commit to the University of Miami. For the game, Seymore had six receptions for 122 yards and one touchdown.
As the time dwindled down, Miami Northwestern fought back late in the fourth quarter after running back Jamari Ford (Class of 2023) leaped into the end zone with 4:12 remaining to cut the Miami Central lead down to 21-14. Miami Central attempted to run the clock out but that effort was put to an end once Miami Northwestern defense created a turnover by forcing a fumble. The fumble was recovered by Miami Northwestern linebacker Kareem Maycock (Class of 2023), who then returned the fumble for a touchdown to tie the game at 21-21 with 1:47 remaining. Miami Central answered back and sealed the victory on a short field goal by kicker Jayden John (Class of 2022) as time expired. The Rockets ended their three-game losing streak against the Bulls with a final score of 24-21.
The Rockets (4-2) look to extend their four-game win streak to five in a district matchup against the Hialeah Miami Lakes Trojans (0-6). The game will happen Oct. 7 at "The Mecca." Kickoff is set for 3:30 p.m.
The Bulls (4-2) look to bounce back this week against the Miami Norland Vikings (2-3), also at The Mecca and also on Oct. 7; kickoff is set for 7:30 p.m.
Another game to watch is the Booker T. Washington Tornadoes (2-4) vs. Glade Central Raiders (3-2) on Oct. 8 at "The Mecca." Kickoff is set for 7:30 p.m.